SXSW 2009 – Paul Rudd Wanted Complete Authenticity in I Love You, Man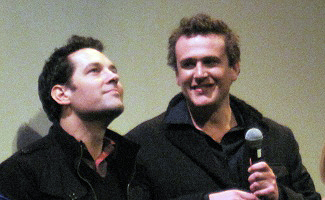 Friday night in Austin marked the opening of the 15th annual South by Southwest Film Festival (SXSW) and the premiere of I Love You, Man — starring Paul Rudd, as a soon-to-be married man who realizes he doesn't have a best bud to serve as his best man, and Jason Segel, as the improbable candidate for the job.
The movie's maladjusted male bonding and deadpan social anxiety easily won the audience over, as did the genuine affection between Rudd, Segel and the rest of the cast, clearly evident during the post-screening Q&A. One audience member asked about a scene where Rudd's character, after some competitive drinking, is vigorously sick all over Jon Favreau. Rudd recalled his first meeting about the part and his one condition to taking it: "I want to really throw up in that scene." The actor explained, "Every time we see somebody throw up in a movie, it looks like they have a can of soup in their mouth. I said, 'There's got to be a way, ipecac or something, where I could really throw up.'"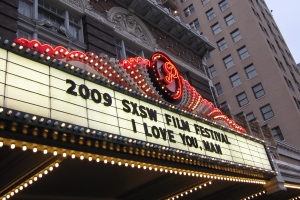 Director John Hamburg added, "I really wanted Paul to be in the movie, so I said 'Dude, of course you're going to throw up. I wouldn't shoot it a different way.'" Favreau, looking askance, chimed in: "They didn't tell me that part."
Hardly weighty matters — but Hamburg and his cast's easy rapport came through even when discussing the technique and tone of a upchuck gag. At the Q&A's close, Hamburg asked SXSW Film head Janet Pierson what time his panel was scheduled for the next day, and Pierson, unsure, turned to the audience. The laughing crowd obliged, "One o'clock." Relaxed, human and sincere, it may have been the most charming moment of the night as Hollywood glamor met Texas charm to set the tone for the next eight days of SXSW.
Read More