SXSW 2009 – Music and Movies Meet at the End of the Fest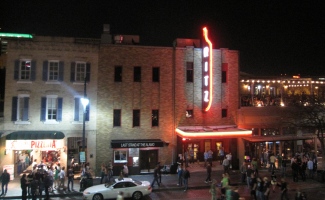 Starting on Wednesday, the tone of South by Southwest began changing — slowly at first, but irreversibly and immensely by Friday, as the film and interactive portions of the festival gave way to the music. There are still movies screening, as the final day of films closes tonight with 500 Days of Summer, but after the music component of the fest started, 6th street became crowded with revelers and bands, more than moviegoers and moviemakers.
There were several great music-based documentaries this year, too, like Anvil! The Story of Anvil, about a 1980s Canadian metal band whose influence far outstripped their success. The never-say-die perseverance of the band's founders — and the straight-out-of-Spinal Tap problems they face on a European tour — had some viewers wondering if the documentary was, in fact, a mockumentary; well, it's not and the band is playing shows in Austin as part of the film's screening here. Meanwhile, the winner of the 24 Beats per Second award given to a South By film about music, went to Iron Maiden: Flight 666, which follows the high-flying travels of the legendary metal band whose lead singer is also their pilot But there were fiction films that also used music to great effect, too, as the two festivals mingled on the street in front of the
theaters and the bars.
Observe and Report's brilliant soundtrack is a big part of the film — you'll never hear The Pixies' "Where is My Mind?" the same way after the way it's used here. In Alexander the Last, actress Alex (Jess Weixler) is tempted to stray while her musician husband is on the road; her husband's played by the real band Bishop Allen's guitarist Justin Rice.
I Love You, Man not only uses Canadian power-trio Rush as a plot device, but even features the band in concert (then adds Paul Rudd and Jason Segal covering the band's "Limelight" on the soundtrack). Closing night film (500) Days of Summer is already earning justified raves for its soundtrack as well, with contributions from Regina Spektor, Feist, and a surreally silly dance sequence set to Hall and Oates' "You Make My Dreams Come True." As the festivities draw to a close, it's very easy to stumble out of a movie, hear a band blaring from the next building over, and appreciate the unique feedback between the two that makes this event so unique.
Read More