SXSW 2009 – Moon Rises With Sam Rockwell and Director Duncan Jones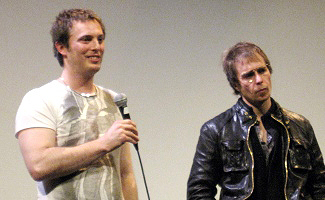 Saturday night at SXSW saw director Duncan Jones and actor Sam Rockwell present Moon, their '70s-styled scifi flick. In it, Rockwell stars as a miner isolated at a lunar outpost in the near future who comes to grips with the hidden truths behind his lonely mission.
Filled with big ideas, brilliant effects and brain-bending twists, the movie also has a sense of humor. Director Jones played along at the Austin screening, mounting the stage in a bright yellow, full-body jumpsuit with a "Lunar Industries" patch, as seen in the movie.
Rockwell plays most scenes in Moon solo, but interacts with
the base's computer intelligence (voiced by Kevin Spacey) and another
character bought to life by special effects. Rockwell explained the
challenges of working with actors who weren't there: "Sometimes Duncan
would read the robot, and sometimes the sound guy would put an earwig
(earpiece) in my ear… and I would be listening and literally acting
with myself."
Jones explained how the movie's near-future science has drawn attention from unexpected places: "We're actually doing a screening of the film at the NASA space center the day after tomorrow; they've asked to see it. So we'll be doing a Q&A where I ask the questions and they give the answers."
When asked if the movie surprised him in any way, Rockwell praised the effects and design and how Moon followed in the footsteps of other great, gritty scifi films: "I was surprised at how expensive it looked, because we did it for such a low budget. I was surprised how beautiful it looked, and it reminded me of Blade Runner and Alien . There were aspects in this film as a homage to those films. I'd done science fiction comedies before, but never scifi drama, so this was a chance to do that."
Read More