Uncategorized
SXSW 2009 – Joseph Gordon-Levitt and Zooey Deschanel on Making a Grown-Up Love Story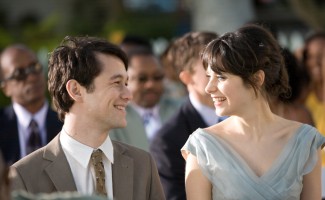 SXSW's closing night movie, the romantic comedy 500 Days of Summer, is not just a crowd pleaser, it's also honest about how love doesn't always happen the way we want it to. In it, Joseph Gordon-Levitt is Tom, a young architect who's fallen for Summer (Zooey Deschanel). The film's fractured time line jumps from day to day through Tom and Summer's time together, from first meeting to last parting. AMC News spoke with Gordon-Levitt and Deschanel before the final screening.
Q. 500 Days of Summer closed Sundance too. Is there a lot of difference between the two festivals?
Gordon-Levitt: South by is just — it's very different from Sundance. Sundance is for cinephiles; it's for movie lovers. South by is pure rock and roll, which can manifest as a movie, or as music, or as a website; it's a different kind of energy. I think it's more rambunctious here.
Q: Was was it about 500 Days of Summer that appealed to you?
Gordon-Levitt: The appeal of 500 Days of Summer was the same as the appeal of any of the movies that I've done, which is that it inspired me. I didn't really treat it differently, like "Oh, this one is light, where as the other ones were heavy." To me, [Tom] is a character; he feels what he feels. Some of it is love, and some of it is very painful because he's broken-hearted.
Q: So you just read things, and if you like them, you go for them?
Gordon-Levitt: I met director Marc Webb, and I found someone who loves his job and loves movies. He wasn't just looking for the paycheck, and he wasn't just looking to make something cute. I mean, the movie's very cute, but we talked about story. We talked about character. We talked about what it feels like to fall madly in love. We talked about what it feels like to have your heart broken. To me this movie's funny, and it's really fun, but it's not funny for the reason some quote-unquote "comedies" are, where they're just chasing the laugh. In this movie, you laugh because you see these characters and you say, "I know what that feels like," and that makes you laugh. It's the difference between a cathartic laugh or a joke laugh.

Q. Zooey, have you been able to enjoy the festival?
Deschanel: I think it's just so amazing to see so many people gathered to see music and films and celebrate art in general — I played here last year with my band, She & Him. But sometimes, I get a little overwhelmed, and there are so many things going on. If I were here just by myself, not doing press, it might be a different story, but I think I'll lay low.
Q. Your character Summer is the perfect girl, and then she's not … and then she's the perfect girl for someone else. Did you work to play those different sides of her, or was it more instinctive?
D. I approached it more in a more intuitive way. There's something about her. She is effortless in a lot of ways, so I think some of her [character] comes from the fact that she is a graceful person. So I approached it so that everything she does is with grace. And she is a little bit mysterious to some degree, so you can't know too much about her.

Q. 500 Days of Summer reminded me of your work in All the Real Girls . Is it more fun to do movies where love is complicated and grown-up?

D: Yeah, I've been drawn especially to films about love and human beings and mistakes and loss and all that. I think that that's what makes me want to see movies.
Q: You've worked with Joseph before on Manic , and you've been friends for some time. Did that make things easier for you?
D: It really helped; it's so nice to have a friend that you
get to work with. I'm so lucky to have worked with him more than once,
and hopefully I get to work with him even more, because he's the best
— a great actor, a great collaborator, a great scene partner and more.
Read More