SXSW 2009 – Made in China Takes SXSW Grand Jury Prize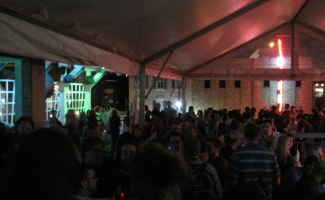 Tuesday night marked the formal end of the South by Southwest Film Festival, but with movie screenings continuing on until Saturday, it's "closing night" only in name.
But it is the night that jury and audience prizes are handed out: The grand jury prize for narrative filmmaking went to Judi Krant for her debut film, Made in China, a tale of a can-do inventor who travels to China with dreams of making it big with his new novelty item, "a humorous domestic hygiene product."
The grand prize in documentary film went to 45365,
which takes its name from the zip code of the town it chronicles,
Sidney, Ohio. Following the lives and hopes of the residents of Sidney
— a town with a population of only 20,000 — 45365 paints a distinct portrait of modern small town life. The jury also bestowed an honorable mention on The Way We Get By,
a documentary about a group of senior citizens who've spent years
volunteering to greet returning military service people at their local
airport.
The audience award for fiction film went to That Evening Sun, starring Hal Holbrook as an older man intent on living out the last of his days on his old land — despite the presence of a new tenant who he despises. The audience documentary award went to the wrenching, fascinating Mine, an examination of what happened to the pets abandoned by Hurricane Katrina — and what happened when their owners tried to get them back. Awards were also given for the experimental film program of the festival and other areas of achievement.
For a complete list of winners, check out the SXSW site.
Read More