SXSW 2009 – A Quick Look Back at This Year's Festival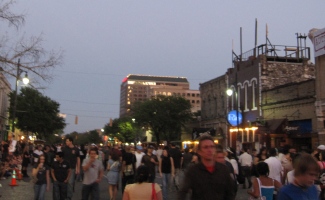 The South by Southwest Film Festival shouldn't work — the programming's bundled up with other events; its homebase Austin is deep in the heart of Texas and completely out there, the venues are too relaxed, too convivial and can any movie compete for your attention with The Alamo's 20-beer chili? Complicating matters, this year a new Festival Director Janet Pierson was taking the reins. So perhaps it's a tribute to her that SXSW 2009 went as amazingly well as it did.
There was, literally, something for everyone; independent film fans could luxuriate in the relaxed, human drama of the Austin-set sisters-in-crisis tale Beeswax, the New York art-scene drama Alexander the Last and the San Fran not-quite-romantic-comedy Sorry, Thanks. Attendees looking for big-studio fare (that was still off the beaten path) could enjoy I Love You, Man, Observe and Report and (500) Days of Summer, plus get sneak peeks at Bruno and Sam Raimi's Drag Me to Hell.
Horror and action buffs even got movies to celebrate, from Paul Solet's quiet, creepy Grace, about a mother willing to do anything to help her newborn survive, to the bruised-yet-beautiful longing of Make-Out With Violence. The lucky crowd at the Paramount theater who got to see Kathryn Bigelow's The Hurt Locker on the big screen were knocked back in their seats by a taut, thrilling story of Army bomb disposal technicians in Iraq. The documentary Best Worst Movie looked at the legacy of, and hatred for, Troll 2 — a horrible '80s fright flick — and also screened here at South By with a rare showing of Troll 2 on the big screen.
Other special events included a 10th anniversary screening of the Austin-shot Office Space, as well as a screening of Metropolis with a live performance of the original score; there was also a rare big-screen presentation of Todd Haynes' brilliant, illegal Superstar. The 2009 South by Southwest film festival may recede into memory tonight, but it's already been the kind of success it'd be impossible to forget.
Read More