Stacie Ponder – Lena Headey Talks Sexy Vamps, Her New Flick and More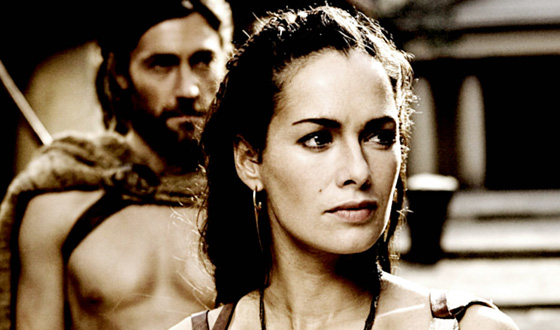 No doubt best known for her performance as "Elise" in the 1994 made-for-TV movie MacGyver: Trail to Doomsday, Lena Headey has some other credits which you may be familiar. Perhaps her turn as Queen Gorgo in 300 ? Sarah Connor in TV's Terminator: The Sarah Connor Chronicles? And horror fans can catch her next week in The Broken, as a woman whose life spins out of control after she sees her double driving down the street. We sat down recently and I asked her some incredibly random questions.
Q: So, what attracted you to The Broken?
A: Well, it was in London and… a big attraction was, "I can go home every night and see my pals." The director [Sean Ellis]… comes from a fashion photography background, he's very visually interesting… It's exploring a woman's psyche. Is she going mad, or are these things really happening? They scare me more… films that look into possible madness.
Q: I know you're a big horror fan. What's your earliest horror memory?
A: I used to borrow a friend's video card and go down to the store all the time. I was obsessed with vampires when I was 13 or 14.
Q: What kind of vampires do you like more, the sort of suave Dracula-esque ones or the scary, Salem's Lot type?
A: Well, Lost Boys is one of my all-time faves. I just thought it would be great to be a vampire. I remember this movie called Once Bitten , which is about an '80s sort of power girl who became a vampire and was really, like, sexy. Hair like she was from Dallas, shoulder pads, big earrings. She would ride her exercise bike — it's such a funny movie — but at night she's like a crazed vampire. I thought, that's what I want to be. Then I'd watch Fright Night …
Q: You know what I don't understand? In Fright Night, when Amanda Bearse turns into a vampire her hair is suddenly a foot longer… Maybe fangs come with a free weave.
A: It's a sexy vampire thing, I guess.
Q: You like the sexy vampire thing, I like the scary vampire thing. So, are you one of those who knew what you wanted to do when you were four?
A: I sort of was… since I was a kid watching TV or movies or whatever… I would think, "That's really all I want to do". It seemed like such another world, like The Wizard of Oz .
Q: You're moving behind the camera to direct…
A: Yeah, all these other things are exciting, but ….. I've never directed before, so I need to make sure that people know that I can. The movie that I've written, The Sophisticates, is a… is a small ensemble comedy and I hope it's charming and funny.
I think [first-time] female directors… always seem to set out and do a drama. I think, oh f*** it, I wanna make a goofy movie… I want people to go in and have a treat, be uplifted and charmed.
Q: You know, you're supposed to be, like, a famous person. How come I don't see you in gossip rags getting out of a car, no panties, showing off the goods?
A: I think I've been paparazzied twice in my life since I've been out here and it was… horrendous… I'm happy to sit here with my dogs and hang out with people I like. All that [attention] doesn't appeal to me… they're like, "She's Sarah Connor!" It's funny… and it couldn't be farther from me. But I do love shooting stuff!
A fan of horror movies and scary stuff, Stacie Ponder started her blog Final Girl so she'd have a platform from which she could tell everyone that, say, Friday the 13th, Part 2 rules. She leads a glamorous life, walking on the razor's edge of danger and intrigue.
Read More