Stacie Ponder – Breaking Bad's Aaron Paul on His Other Project (Last House on the Left)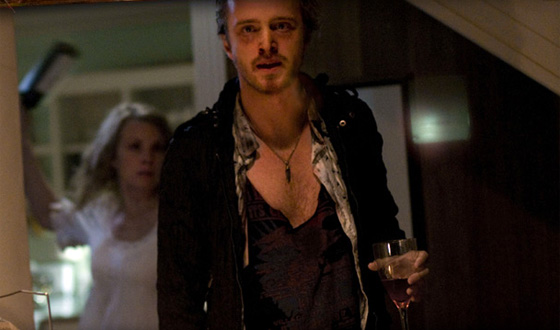 Breaking Bad's Aaron Paul on His Other Project (Last House on the Left)" width="560″/>

With the critically acclaimed Breaking Bad now in its second season and Last House on the Left about to hit theaters, you'll be hearing a lot about Aaron Paul this week (Click here to read him talk about Breaking Bad.) The actor recently took time to speak with me from, of all places, Disneyland. I think we can all agree that it's totally awesome to talk about extreme violence in the middle of the Happiest Place on Earth.
Q: Is this remake more palatable than the original ? Wes Craven's movie is one of those movies you don't want to experience more than once.
A: I really believe that the true fans of the original
will like the remake. The original was rated X, and ours was NC-17 for
so long — we had to cut out so much of the assault scene and many
other moments to finally get an R rating. The movie is very artistic — it's an artistic home invasion thriller more than a
horror movie.
Q: So in The Last House on the Left, does your character, Francis, engage in rape?
A:
I am involved in the "assault scene," as we called it. It took us three
days to shoot, and I'm definitely involved in it — maybe holding down
the girl while the act is happening. It's pretty brutal. I couldn't
look at the screen when I saw it — it was just too much for me.
Q: Had you seen the original, or did you watch it to prepare?
A:
I'd seen the original years ago, and I remember being so disturbed by
it. When I first got the meeting for the film, I was like, "Absolutely
not, I cannot believe they're remaking that movie." The original is so
raw; I passed because I was nervous to be involved in a remake that I
just didn't think would hold justice to the original. But when the
meeting got set up again, the producers told me that I must watch [Last House director] Dennis Iliadis's film, Hardcore . And once I watched Hardcore…
his vision is just so artistic and beautiful, you feel like you're a
fly on the wall in a room with these characters. I read the script with
his vision in mind and I said absolutely to the meeting; it literally
happened that night.
Q: So you're not a fan of remakes in general? Are you a genre fan?
A:
I'm a huge horror fan. It's just I really have not seen a movie that I
have liked better than the original. There's been so many movies —
they're remaking every horror movie — and it's hit or miss. It's
either pretty good, or it's horrible. I was just nervous to jump into a
film that I thought would be mediocre.
Q: You're echoing the thoughts of lots of horror fans.
A: The people who are saying "I can't believe they're remaking Last House,
the first one was epic!"… those people will go see it. And
this movie is absolutely raw. There's going to be plenty of people turning
their heads away, not able to continue watching. But I think that's the
purpose of this film. What would you do if this happened to your
daughter and these people were in your house? If you don't stand up for
yourself, they'll come after you.
Q: It sounds strange to say, but it's good to hear that the brutality has been maintained, that this isn't a PG-rated, watered-down version of the original.
A:
It is intense. I went to a screening and there was a woman who, during
the assault scene, stood up and walked out. I'm absolutely terrified
for my mother to see it. I told her not to see it.
Q: I know there are lies all over imdb.com, but on your page it says you were on The Price is Right…
A:
I was! I made it to contestant's row and I bid on a desk — I won the
desk right away. I went up on stage and I had a chance to win a new car
— I played the game with the giant dice. I rolled a four and I said
"lower" and it ended up being higher, so I lost the car. I went to the
wheel and I ended up spinning a total of 95 cents, and I went to the
Showcase Showdown. I bid $132 over, so it was very depressing.
To read Aaron Paul talk about Breaking Bad, click here.
A fan of horror movies and scary stuff, Stacie Ponder started her blog Final Girl
so she'd have a platform from which she could tell everyone that, say,
Friday the 13th, Part 2 rules. She leads a glamorous life, walking on
the razor's edge of danger and intrigue.
Read More