Roger Corman Is No Longer King of the B-Movie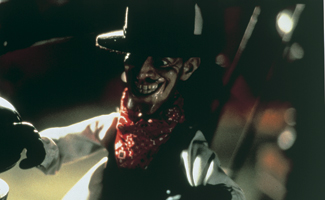 Roger Corman — the man who not only brought us early horror flicks like The Wasp Woman and The Fall of the House of Usher , but also jump-started various careers, bankrolling cheapies by Martin Scorsese (Boxcar Bertha), Jonathan Demme (Caged Heat), and Francis Ford Coppola (Dementia 13) — was rightfully known in his day as the King of B-movies. His low-budget films thrived in the era of the drive-in double feature. But now that audiences have shifted from the backseat to the living-room couch, who is Corman's successor?
Charles Band. The direct-to-video impresario's name probably isn't familiar; only a true lover of B's who haunted video-store racks in the early days of the VCR would be familiar with his work, which includes Ghoulies , Trancers , Troll — and, of course, their sequels. Since the late '70s, Band has produced over 200 films, and he's currently working on a follow-up to his demonic "water pipe" flick — Evil Bong.
The linchpin to his long career is 1989's Puppetmaster. Released by his fledgling production company, Full Moon Entertainment, it was a hit in the burgeoning direct-to-video market, spawning eight sequels. Its financial success aside, Puppetmaster is Band's best tiny-things-that-kill flick. It's a revered cult-horror classic, and its technical ingenuity (born, no doubt, of a minuscule budget) is of a sort rarely seen in multiplexes nowadays.
Click here for a full schedule of Puppetmaster on AMC.
Read More