Uncategorized
Q&A – Duplicity Writer/Director Tony Gilroy Shares Advice From the Late Sydney Pollack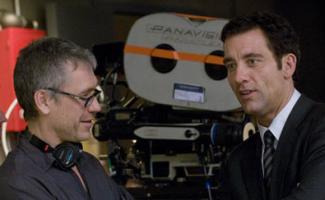 Screenwriter Tony Gilroy's directorial debut, Michael Clayton , earned seven Oscar nominations and vaulted him to the A-list of new directors to watch. With Duplicity, Gilroy shifts from legal drama to romantic-comedy intrigue. The movie stars Julia Roberts and Clive Owen as corporate espionage experts playing both ends against the middle — and possibly against each other.
Q. Did Clayton's Oscar buzz help get the ball rolling for Duplicity ?
A. I wrote it about six or seven years ago — before Michael Clayton. We certainly didn't anticipate what happened awards-wise and all that stuff; there was no presumption. But I had enough to go on that people thought I could direct a movie. The problem was, how were we going to cast it?
Q. So how did you?
A. George Clooney introduced me to Clive Owen. He said, "You should get Clive to do Duplicity; nobody knows how funny he is." I didn't just think he was good [for the role] — I thought he was absolutely perfect. The next thing became, "How do we get Julia Roberts?"
Q. What's interesting about Duplicity is that you show different sides of these characters who could have just been con caper clichés.
A. With Clive, I never had to worry about giving him a bag of cool in this movie. There are some actors who'd be insecure to the point where they wouldn't want to do or go through some of the things he does in the movie. I never had to butch him up; he came with so much tough guy, he comes with so much cool … With Julia, I knew [how] smart and sophisticated and sexy she was. I also knew that if I could wrap all that up with all this complexity and scoundrel-ness — and she knew this as well — there would always be an emotional center for her. That's really important, so that it just doesn't turn into a game.
Q. Watching Duplicity, I was taken back to movies like The Thomas Crown Affair and The Sting. What movies influenced you?

A. Definitely we looked at Thomas Crown a lot. There are all kinds of wacky con game movies. This movie called Dollars , which you might remember — Warren Beatty and Goldie Hawn — was a very cool movie. And there are movies you watch for their look. I watched Tootsie a lot.
Q. It's a great New York film…
A. Yeah, but there's a lesson that came out of it. I'm supposed to do this comedy, and I'm really nervous about it and [Sydney Pollack] gave me a real big lesson — he had panicked before he shot Tootsie, panicked at what he perceived to be his inability to be funny, and almost called Tootsie off at the last minute. Finally he went in to start shooting and said, "I'm just going to shoot it like it's Chekov. I'm going to shoot it like it's the most serious thing ever." I think there's a great tradition in that: If you watch the war room scene in Dr. Strangelove , it's dead serious every minute. It's just that what people are saying and the things that they think and want are extreme.
Q. A film like this is pretty meticulously timed. Was there any room for the actors to riff?
A. It's not the kind of thing that lends itself to big improv. But if I smell that somebody has a good idea, I'll chase it down — sometimes it works and sometimes it doesn't. The place that you're really looking for people to shake it up is energy-wise; you bring in Paul Giamatti, and how could you anticipate his part being played that way? [Laughs] I couldn't.
Q. What's next for you?
A. It'll be two years in August since I've had any kind of break at all, so I think it's probably prudent to take some sort of breath. Also, I don't know culturally where we are right now; I don't know where the audience is right now. I think it's a bizarre transitional period.
Q. How did you feel when you heard they were moving forward on the Bourne films without you?
A. I turned in my draft for the third one the week that we went in to start prepping Clayton, and I kind of said everything I wanted to say in that [series]. "Go with God" is my feeling; I have no emotional pain attached to that at all.
Read More