Uncategorized
Q&A – Colin Hanks on Working With Jane Fonda (and His Dad)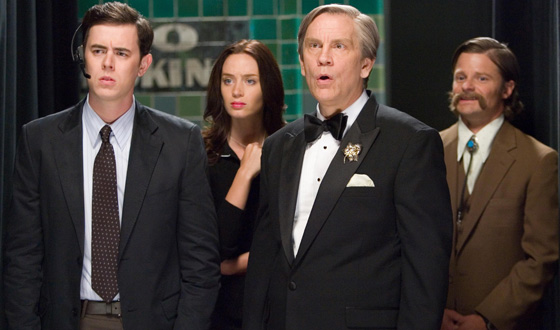 Colin Hanks discusses what makes a script stand out for him, co-starring on Broadway with Jane Fonda, and sharing the screen with his dad in The Great Buck Howard, which opens Friday.
Q: Last week you made your Broadway debut in 33 Variations with Jane Fonda and your new film, The Great Buck Howard had its premiere. What was that like?
A: It essentially was the craziest week of my life. I would be lying if I said that there weren't some moments that I said to myself, "What is going on? Who am I?" A lot of hard work and dedication over the last six years with the movie and two-and-a-half months with the play happened to coincide. It's a rare thing, so I'm just trying to enjoy it as much as I can.
Q: In 33 Variations, you play a nurse who falls in love with Jane Fonda's daughter. Were you nervous about sharing the stage with Jane Fonda?
A: You don't really get nervous because it is what it is. You have to do a job. I've been lucky because everybody I have worked with has been great and has far exceeded any relationship that I thought I would have with these people. Jane is the stoic inspiration of the whole cast and John Malkovich is so funny and light.
Q: Speaking of Malkovich, you play his assistant in The Great Buck Howard. I heard that you put off reading the script until your agent convinced you to take a look. What made it stand out?
A: When you read a script quickly, it's a very good sign that it is
an engaging piece, and I really seemed to blow through this script. I
thought it had amazing characters and was a delightful little story,
which you don't come across very often. Most of the time you read
something and it's like, "OK, here comes the third act turn" and it
doesn't seem organic. What interests me is the complete package and I
thought that this film had that.
Q: Your father, Tom Hanks, produced the movie and plays your dad in it. What was it like sharing the screen?
A: We weren't really looking for anything to do together, it just
sort of happened. I had been attached to the movie for a very long time
had been trying to get it made with Sean [McGinly, writer/director] but
we were coming up to all sorts of obstacles. Then someone suggested
sending it to Playtone [Tom Hanks' production company]. They ended up
really liking it, much to my surprise and maybe even chagrin. My dad
said, "We want to make this and I'm going to be your dad in the movie."
Q: Why to your "chagrin"?
A: Because I knew then that our relationship was something that most
definitely was going to come up. I mean the dad thing always comes up
regardless, but after ten years of discussing it, I'm kind of over it.
But look, I'm no fool. I get it. I understand and I'm not about to say
no when an actor of that caliber wants to be in your film.
Q: You play an assistant. Did you base this on any assistants you have had or your father has had?
A: I actually don't have an assistant, and no, I didn't base it on any
of my father's. When I met with Sean, I found out that a lot of the
script was based on his experiences as an assistant to the Amazing
Kreskin — not that Kreskin is much like Buck Howard; we embellished
quite a bit. The first 15 minutes of the film is really based on what
happened to Sean, so that made it interesting and we went from there.
Q: What's next for you?
A: I'm in the process of directing a documentary about Tower Records. A lot of my time is starting to revolve around that.
Read More