Now or Then – Watchmen or Sin City?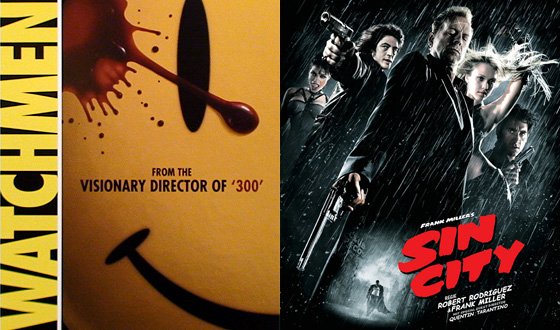 Watchmen or Sin City?" width="560″/>
Now: Watchmen (2009)Then: Sin City (2005)
After years of anticipation and one eleventh-hour lawsuit, director Zack Snyder's ambitious adaptation of Alan Moore and Dave Gibbons' popular, symbol-laden comic series Watchmen has arrived in theaters. Comic-book adaptations are a dicey business, to say the least. If they skew to the masses, they're often dismissed by the source material's all-important, buzz-generating fans; if they're too faithful to the original's quirks, they risk turning off the movie-loving population at large. Snyder's movie nips at the heels of other comics-turned-movies (Heath Ledger's masterful way with a pencil might ring some bells) but most resembles the artier model of Robert Rodriguez's Sin City , directed in collaboration with the original's celebrated creator, Frank Miller. Of these two splattery, high-style, faithful adaptations, which is more likely to make you a fanboy?

Our Put-Upon, Gravelly-Voiced Narrator
Sin City: As nose-faced henchman Marv, Mickey Rourke's gory
reign of vengeance-driven terror — complete with beheadings,
one-on-ten street fights, and hatchet work on every imaginable spot on
the human body — gives the movie its mojo.
Watchmen: Cynical masked crusader Rorschach (Jackie Earle
Haley) represents the gritty heart of the story. That Haley conveys his
rabbity, obsessive character so compellingly both with and without his
trademark stocking-cap in place is a testament to his abilities.
The Winner: A tie. There's nothing like trying to compare apples and
oranges: Marv is all rough force and towering presence; Rorschach is
wily smarts and whipsmart fighting moves.
Softcore Porn for Comic Book Geeks
Watchmen: After swooping in to save a group of citizens in
peril, Silk Spectre II (Malin Ackerman) and Night Owl II (Patrick Wilson)
indulge in a little soft-lit, uninhibited action aboard their trusty
hero-mobile.
Sin City: Marv and his gorgeous lover Goldie (Jaime King) have
a woozy liason just before her murder that puts Goldie's nubile curves
on full display (Marv, mercifully, is confined to the shadows).
The Winner: Watchmen.
Who would have thought that a superhero-on-superhero sex scene aboard
an owl-ship named Archie could end up feeling so authentically, almost
embarrassingly hot?
The Ripped-From-the-Pages Factor
Watchmen: It will be obvious even to newbies that many scenes
are taken straight from the original. But Snyder relies too much on
super slow-mo to make that clear, and the storytelling suffers from the
filmmakers' desire to cram it all in.
Sin City: The scenes are also shot-for-shot, but the
high-style treatment raises the movie's stakes, with its sinister,
noirish blacks and whites, and inspired slashes of color. The opening
scene, in which the Salesman stands next the blank silhouette of his
victim amid visceral slashes of rain is a moment of particular beauty.
The Winner: Sin City, with kudos to Watchmen: It's awesome to see filmmakers stick so faithfully to the visual traditions of the comics they're adapting.
The Unexpected Allure of Carla Gugino
Watchmen: Er, not so much. For most of the movie, Gugino's
character — former superhero Silk Spectre the first — is done up in
aging makeup and frumpy clothes, and appears to have a rocking chair
glued to her rump.
Sin City: In a slew of mostly naked (or artfully draped)
scenes, Gugino shows off a lean, but touchably soft body that's
mind-blowingly seductive. She may be the only actress in history who
could maintain her allure even when brandishing a bloody stump where
her hand used to be.
The Winner: Sin City. Carla Gugino! Nude! That is all.
The Verdict
Watchmen: An evocative, entertaining Hollywoodification of an acclaimed graphic novel that was widely thought impossible to adapt.
Sin City: A work of filmic art that's just as gritty and arresting in its own way as the iconic original.
The Winner: Sin City.
It's hard to beat a gripping, eye-popping movie that could make you
feel more like you're watching the action from inside the panels of a
comic book page.
Read More