Now or Then – 12 Rounds or Live Free or Die Hard?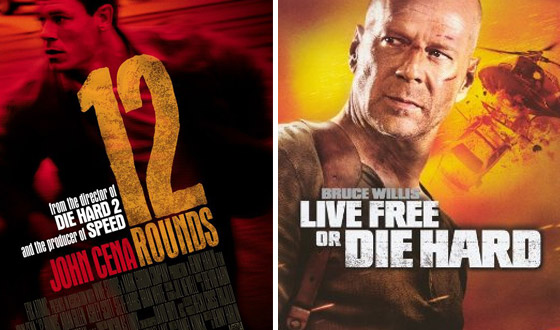 12 Rounds or Live Free or Die Hard?" width="560″/>
Now: 12 Rounds (2009)Then: Live Free or Die Hard (2007)

John Cena isn't the first pro wrestler to envision a future spent putting his hulking physique to use as a Hollywood action star. (See: Duane "The Rock" Johnson, Jesse "The Body" Ventura and Hulk Hogan.) But he is the newest contender to enter the ring, with a starring role in director Renny Harlin's new cop flick 12 Rounds, in which he plays an average-Joe defender of the peace driven to dangerous extremes. It's a role that begs for comparison to movie tough guys past — such as Bruce Willis' beloved, wise-cracking anti-hero John McClane, who we last saw making a man out of Justin Long in the 2007 blockbuster Live Free or Die Hard. Does Cena have the chops to topple Willis from his badass-for-the-ages throne?
The Put-Upon, Muscled Hero
12 Rounds: Cena makes his action-flick debut as straight-laced New Orleans detective Danny Fisher, who is forced to play ball with a nefarious prison escapee out for revenge.
Live Free or Die Hard: Willis has reprised his role as reluctant crime-stopper John McClane no less than four times, and last we saw of him in 2007, he was still consuming cigarettes and booze in equally detrimental amounts.
The Winner: Live Free or Die Hard. Cena's acting seems to range from stone-faced determination to… stone-faced determination with furrowed brow.
The Loved One in Peril
12 Rounds: Fisher's pixieish wife Molly (Ashley Scott), who's begun to suspect that her cop spouse may not be living up to his husbandly potential.
Live Free or Die Hard: McClane's spitfire daughter Lucy (Mary Elizabeth Winstead, of Final Destination fame), whose disdain for her absentee dad knows no bounds.
The Winner: A tie. Scott is surprisingly believable, but an undercooked marital subplot that's meant to ratchet up the urgency falls flat, mainly because it revolves around Fisher's failure to fix a leaky pipe. (Seriously.)
The Madman Who Must Be Stopped at All Costs!
12 Rounds: There's something weirdly compelling about wily international terrorist Miles Jackson (Aidan Gillen), who's concocted an elaborate hostage scheme to ruin his old foe Fisher. It's probably the accent.
Live Free or Die Hard: Timothy Olyphant plays Thomas Gabriel, a ruthless computer genius looking to teach his former employers (the U.S. government) a thing or two about the hacking of national grids.
Winner: 12 Rounds. Confession? We've never fully understood exactly how Gabriel's grand-theft-financial-as-massive-moral-lesson scheme could possibly have come to fruition. But that's probably because we're not computer geeks living in generator-equipped basements preparing for the end of the world.
The Action-Orgy Piece de Resistance
12 Rounds: Fisher arrests his nemeses through the use of a well-placed speedboat maneuvered into the path of their oncoming getaway-mobile.
Live Free or Die Hard: The unstoppable McClane "kills" a helicopter — with a car!
Winner: Live Free or Die Hard. Anything this over-the-top deserves a spot in the Ridiculous Action Moments Hall of Fame.
The Verdict
12 Rounds: A gritty, rapid-fire thriller that manages to raise pulses despite Cena's lackluster acting. Kudos for an end-of-movie plot twist that's a genuine surprise.
Live Free or Die Hard: An overblown instant classic that gets major points (as does its star) for its firm commitment not to taking itself too seriously.
Winner: Live Free or Die Hard. Honestly, what did you expect? Hasta la – well, you know the rest.
Read More