Megan Fox's Fathom – The Latest Bad Girl to Make You Feel So Good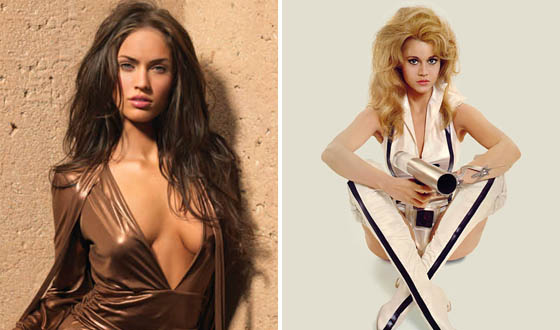 When Megan Fox (Transformers star and new geek obsession) was announced as the star of Fox Atomic and Aspen Comics' Fathom movie, most moviegoers said a collective, "What's Fathom?" But comic fans know it as one of the many "bad girl" comics that crowded shop racks during the late '90s. (Fox is apparently a big fan, but if you believe that then you probably also think she's going to leave Brian Austin Green for you and your action figure collection.)
Fathom, which launched in '98, follows the standard "bad girl" formula: Absurdly beautiful protagonist (Aspen Matthews, a marine biologist and former Olympic swimmer…), plus scifi tropes (…discovers she's part of a race of aquatic humanoids!), plus cover poses that look like swipes from Maxim Magazine equals beaucoup sales. These hottie heroines are tough as nails, yet still possess the amazing ability to squeeze into tiny skintight outfits. With Fox's geek cred, Fathom could very well restart fanboys' obsessions with the trend. But to do that she'll have to tow a fine line between "bad girl" and just plain bad. Let's take a look at how some of her predecessors have fared.
Barbarella (1968)


French artist Jean-Claude Forest's racy comics served as the basis for the famed Jane Fonda scifi romp, and set the template for future "bad girl" movies. Curvy, barely dressed heroine? Check. Tongue in cheek, sexed-up adventures? (Uh, the "Excessive Machine,' anyone?) Great style? Barbarella's thigh-high boots never go out of fashion. Robert Rodriguez was all set to do an update with Rose McGowan, until the studio decided that his on-again/off-again paramour couldn't open a movie. Probably for the best.
"Bad Girl" or Just Bad: Bad Girl
Vampirella (1996)


The long-in-the-tooth Vampirella (she first debuted way back in 1969) finally got her own movie in 1996 courtesy of B-movie legend Roger Corman and the guy responsible for Return of Swamp Thing. Talisa Soto of Mortal Kombat fame strapped on Vampi's barely-there outfit, while Roger Daltry made viewers forget that he was ever a rock legend by camping it up as the villainous Vlad. You'd think the great Corman would've been able to spin gold out of alien vampires from the planet Drakulon, but no such luck: With terrible production values and laughable acting, Vampirella just plain bites (last vampire pun, I swear).
"Bad Girl" or Just Bad: Just Bad
Elektra (2005)


While Elektra didn't feature anything nearly as silly as the Garner/Affleck playground faceoff from Daredevil , it still failed to explore the dark side the character exhibits in the comics. (She's died and come back to life so many times, she's practically a ninja zombie at this point.) Give her time though — Elektra is a rich, butt-kicking character who deserves another shot at movie stardom. (Perhaps Frank Miller could adapt his Elektra: Assassin series as penance for The Spirit.
"Bad Girl" or Just Bad: Just Bad…for now.

Casablanca , but only Barb Wire uses the cinematic classic to find new ways to get Pamela Anderson out of her clothes. The fact the opening sequence finds Pam gyrating while soaking wet, with no relevance to the plot, should tell you all you need to know. What should have been a fun romp just ends up being an extended episode of her V.I.P TV series. Still, Pam's fans aren't exactly discerning, and she is completely covered in bubbles at one point while wielding a gun. That's nothing if not "bad girl."
"Bad Girl" or Just Bad: Bad Girl

Red Sonja(1985)

Red Sonja is so awful, Arnold Schwarzenegger reportedly threatens to make his kids watch it whenever they act up. The movie barely qualifies as camp, and is a far cry from the raven-haired head-choppers' debut in the pages of the Conan the Barbarian comic book series. There's hope though: McGowan and Rodriguez are teaming up again for an upcoming reboot. Hey, Rose can't be any worse than Razzie winner Brigitte Nielsen.
"Bad Girl" or Just Bad: Just Bad
Sheena (1984)


Written by one of the scribes behind Superman — and starring then red-hot bombshell Tanya Roberts — this gem is fondly remembered by anyone who hit puberty in the early '80s. Featuring copious T&A with Roberts riding a zebra that looks like a painted horse, Sheena is cheese of the highest order. While the flick is great for "bad movie nights," the venerable Sheena (who after 67 years is still starring in her own comics) deserves better.
"Bad Girl" or Just Bad: Just Bad
Witchblade (TV movie and series, 2001)


One of the most enduring characters of the bad girl craze, Witchblade has been adapted into both a short-lived TV series and a popular Japanese anime. Yancy Butler brought much-needed gravity (and clothes) to the role of NYPD detective and possessor of the mystical Witchblade Sara Pezzini. But low ratings and the actresses' own stint in rehab brought the series to an early end. Rumor has it a big screen Witchblade is in the works as yet another vehicle for Megan Fox. One of the stronger "bad girl" concepts, Witchblade could be the next hit horror action franchise. Plus, it's a babe with a giant blade for a hand. You can't really beat that.
"Bad Girl" or Just Bad: Bad Girl
Who are your favorite comic book "bad girls"? Could Fathom enter the pantheon of classic heroines?
When not writing for places like The Onion and HBO, Nick Nadel is in line at the comic book store alongside the other geeks, er, fans of speculative fiction. His most prized possession is a 1960s Batman comic wherein the Dynamic Duo are trapped inside a fortune cookie factory. Want more comic book movie news and opinions? Follow Nick Nadel's column on Twitter.
Read More