Jordan and Shaq Slam Dunk on Hardwood and Hollywood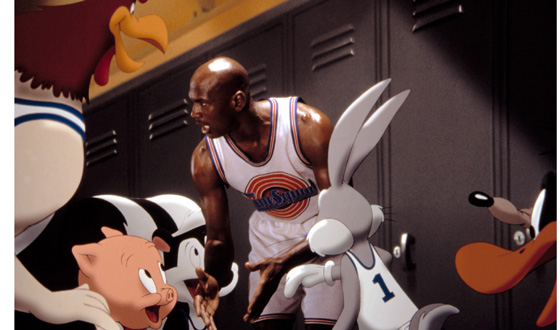 Movie stars have always gravitated to the sport of basketball. Think Spike Lee at Knicks games; Jack Nicholson and Leonardo DiCaprio cheering on the Lakers. Not to mention actors like Jamie Foxx and Adam Sandler who play in the NBA Entertainment League. But what about the basketball players who leave the court for the soundstage? There have been a few and in honor of March Madness, we present a bracket of our own — the basketball players who repeatedly show up in movies. While many of the players below do portray athletes on the big screen, they've also gone on to play airline pilots, weapons dealers and yes, even a genie.
Kareem Abdul-Jabbar
The original courtside to Hollywood transfer (it helps to be based in L.A.), this one time Laker first appeared onscreen as Hakim in Bruce Lee's The Game of Death (1978). Abdul-Jabber then tried out his comedy muscles in 1980's Airplane! and 1988's family flick, Purple People Eater . For the next two decades, he appeared in multiple cameos, including Troop Beverly Hills (1989), Forget Paris (1995) and BASEketball (1998), before returning to dramatic acting in 2006's Whitepaddy. As Hank, a black man dealing with prejudice in Portland, Abdul-Jabbar shows a proficiency for honest acting as strong as his skyhook.
Ray Allen
This Celtic shooting guard has only appeared in two movies, but they're both doozies: 1998's He Got Game ; and 2001's Harvard Man.
In the first, he starred opposite Denzel Washington in Spike Lee's
b-ball drama. That's no small feat for any actor, and his debut performance
drew critical raves. It's also why some fans call him by his
character's name: Jesus. Allen followed up with a supporting role in
James Toback's Harvard Man, and was again praised for his
performance, but he hasn't headed back to Hollywood since. Here's
hoping he finds some time, between breaking free throw records.
Rick Fox
Former Laker Fox is one of the most successful working actor/basketball players in history. He has cameo-ed in Eddie (1996), He Got Game (1998) and Blue Chips (1994); and has a supporting role in Holes (2003). But it's TV where Fox has truly shined, having grabbed recurring roles on Oz, Tyler Perry's Meet the Browns, and Ugly Betty
(on which his ex-wife, Vanessa Williams stars). But with no upcoming roles scheduled, maybe his
old friend Shia LaBeouf can get the poor guy a role in Holes 2?
Michael Jordan
The Man of a Thousand Careers, Jordan has been careful to fit in acting
between his time in the NBA, MLB, and steakhouse building business.
Kicking off with Space Jam
(1996), which had Jordan teaming up with Looney Tunes
characters to fend off basketball-playing aliens, Jordan proceeded to
never act in a movie ever again. Kidding, of course, but despite a
cameo in He Got Game (1998), and the IMAX documentary Michael Jordan to the Max (2000), the most recognizable name in all of basketball has yet to star in another movie.
Shaquille O'Neal
The first baller you think of when you think of "basketball player
cameo," Shaq has appeared in so many movies, you'd think this center
just walks around Hollywood looking for shooting sets. Though his
career playing characters has been less than stellar — as a basketball
player in Blue Chips (1994), a genie in Kazaam (1996) and an urban hero in Steel (1997) — Shaq has excelled at cameos. From After the Sunset (2004), to The House Bunny (2008), O'Neal has always been game to parody himself. Chances are, he's on a movie set somewhere, doing just that right now.
Dennis Rodman
Like a bad penny, Rodman keeps turning up on the big screen. He
started his cinematic ambitions with the 1997 action flick Double Team ,
co-starring with the Muscles From Brussels, Jean Claude Van-Damme.
Though it wasn't a big hit, Rodman rebounded in 1999 with his solo
vehicle, Simon Sez ,
hoping to start a franchise. After that flopped, Rodman switched things up with the 2006 sketch
comedy movie Coming Attractions, then 2008's The Minis,
which found the former Maverick leading a team of dwarves to a basketball
championship. Retired from the NBA since 2000, maybe Rodman will have
better luck in his current run on The Celebrity Apprentice.
Bill Walton
Though Walton was most famously name-checked by fellow list-member Kareem Abdul-Jabbar in Airplane!
(after repeatedly denying to a little boy that he is the real life
Abdul-Jabbar, his character yells, "Tell your old man to drag Walton
and Lanier up and down the court for 48 minutes!"), Walton has appeared
in multiple cameos as himself, including Ghostbusters (1984), Little Nicky (2000), and perennial basketball cameo favorites Forget Paris (1995), He Got Game (1998), and Semi-Pro (2008). However, he recently completed his biggest acting role to date, as a character not named Bill Walton, in the black comedy Who Shot Mamba? Here's hoping his first major acting role isn't a "terrible call."
Read More