John Scalzi – What the Recession Means for SciFi Movies… Less Trek?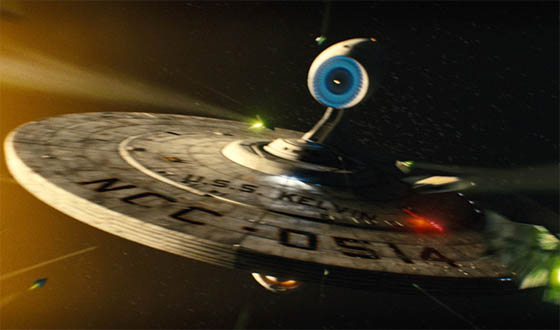 Trek?" width="560″/>

Another reader question! I do so love reader questions, since they keep me from having to think up a column topic on my own. This one asks:
"How do you think the economic recession will affect movies in general, and science fiction and fantasy movies in particular?"
This is a two-part question. The first question is, how will the recession affect the way people go to the movies? The second is, how will the recession affect the way Hollywood makes movies?
To answer the first question: Very little. The box office for 2009 so far has been good — a bit over where it was this time last year — and science fiction and fantasy flicks have been a significant part of that. Watchmen has the top opening of 2009 so far with $55 million (although that's likely to be blown away this weekend by Monsters Vs. Aliens), and other sf/f movies have been strong at the box office: Nicolas Cage's thriller Knowing was the surprise #1 picture last weekend, and the fantasy Coraline has had tremendous legs, in part thanks to its 3D. This is not to say the genre hasn't already had its flops in 2009 — Inkheart, anyone? — but overall it's accounted for a significant portion of the box office and will continue to do so well through the summer, when Star Trek and Harry Potter and the Terminator show up to take your money.
The resiliency of the movie box office during a recession isn't that much of a surprise. It's a traditional Hollywood shibboleth that recessions are good for movies, since movies are a relatively cheap entertainment option and people are motivated to escape their worries for a couple hours of laughter and/or special effects. Indeed when your top movie so far is Paul Blart: Mall Cop, you can't say this is the year for thoughtful, serious pictures. It's pretty clear people are going to the movies to forget about the real world — a positive for science fiction.
The second half of the question is a little more difficult to answer, in part because Hollywood plans and finances its movies well in advance of their release dates, so any effect the economy has on the film industry won't show up on the actual movie screen until months or even years later. The flicks you'll see in the theaters today were greenlit two or more years ago, back before AIG and and the Dow losing 50% of its value. The true movies of the recession won't show up until next year at the earliest.
But that's not to say changes aren't coming: This New York Times article about how movie stars and dealmakers are "toughening up" gives an indication of the belt-tightening that's going on in Hollywood. A lot of stars, directors and producers who used to have production deals will find themselves without, and a lot of talent, both above and below the line, is going to have to accept getting paid less or working less. Speaking strictly from a "bottom-line" point of view, this is not a horrible thing for studios because a significant portion of these production deals are not especially productive. Speaking from the point of view of the key grip who won't be working for six or nine months out of 2009, though, it sucks pretty hard.
What moviegoers might notice is that the major studios may release fewer movies, opening the market up to smaller players. We're seeing that already: Knowing, for example, was released not by a major studio but by Summit Entertainment, a newer production house which recently scored big with Twilight, and also had the moderately successful flick Push. Smaller production companies put together pictures on tighter budgets (the production budgets for Twilight, Push and Knowing combined were $130 million, which happens to be the budget for Watchmen, from Warner Bros.), which can be an advantage in a market like this.
Overall I expect science fiction and fantasy will ride out the recession pretty well. They're escapist fun, they're a proven draw at the box office and they scale so that both major studios and smaller players can make decent flicks. Economically these are not the best of times, but fans of the genre can take comfort that for scifi, it won't be the worst of times either.
Winner of the Hugo Award and the John W. Campbell Award for Best New Writer, John Scalzi is the author of The Rough Guide to Sci-Fi Movies and the novels Old Man's War and Zoe's Tale. He's also Creative Consultant for the upcoming Stargate: Universe television series. His column appears every Thursday.
Read More