John Scalzi – David Bowie Strikes a Chord With SciFi; Mick Jagger Does Not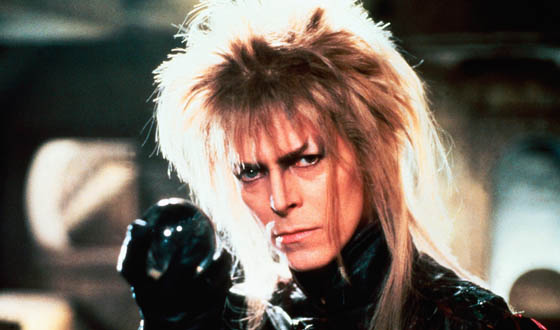 A friend of mine and I were talking about science fiction movies — I know, a shocker — and he asked me a fairly random question: Could I think of any good science fiction movies starring a musician? When I noted the apparent randomness of this, he floated the theory that by and large, people who were famous as musicians tended to make terrible movies, or were at least terrible in them because they're musicians, not actors.
As a general theory, I don't necessarily agree. Yes, there have been genuinely awful flicks starring musicians: Bob Dylan may be the greatest American songwriter of the last 50 years, for example, but you have to be really committed to enjoy 1987's Hearts of Fire. And anyone who ever had this misfortune of watching 1978's Sgt. Pepper's Lonely Hearts Club Band — starring the Bee Gees and Peter Frampton — is still shuddering from the experience. On the other hand: A Hard Day's Night, Purple Rain, 8 Mile; Frank Sinatra and Cher each have Academy Awards for acting, and so on. It's a toss up.
Nevertheless, let's see how musicians starring in science fiction flicks fare:
1. Will Smith
I mean, duh. We mention him here to get the obvious case out of the way. Smith has made some bad science fiction flicks ( Independence Day ). But the first Men in Black is a keeper, and Smith never embarrasses himself in the acting department — note well he does have two Best Actor nominations, although admittedly not for his science fiction work. Overall, he's in the plus column.
2. David Bowie
Perhaps it was typecasting for director Nicholas Roeg to cast the man who created Ziggy Stardust as a visitor from another world, but that's just what he did in 1976's The Man Who Fell To Earth. And it works pretty well: Bowie is good as an ascetic alien trying to save his planet while gradually falling prey to the distractions of earth. But Bowie's performance is so much part and parcel with his overall persona that it's hard to tell if he's acting any differently than he does on stage. Bowie would later play a goblin king in the fantasy Labyrinth, which I'd list as a demerit but which other people, including my wife, love insensibly. So again, another one for the plus column.
3. Mick Jagger
In Freejack , Mick Jagger plays a futuristic bounty hunter pursuing race car driver Emilio Estevez through time because… oh, hell, I can't remember specifically, but I do remember having to watch this one during my time as a movie critic and writing "THE PAIN. THE PAIN" in my reporter's notebook. I also remember Jagger's cocky smirk as being responsible for at least a portion of that pain. So there's one in the debit column.
(Extra bonus Freejack musician actor: David Johansen aka Buster Pointdexter, late of the New York Dolls. He was no damn good in it either.)
4. Sting
One only need remember the former Gordon Sumner's spike-haired, wide-eyed, space-Speedo-wearing performance in 1984's The Bride , a 1985 revamp of (can you guess?) The Bride of Frankenstein . But I'll bet that Sting does hope you'll forget it. So into the debit column twice for Sting.
5. Tim Curry
Yes, kiddies, Tim Curry was a musician — and quite a glammy one at that. Although he's been in scifi clunkers like Congo and cranked out any number of "doing it for the cash" appearances in video game cut scenes, the man earns a lifetime pass in the plus column for being Dr. Frank-N-Furter in The Rocky Horror Picture Show. I mean, dude: The part was written for him. How could he not be excellent in it? Rumor has it that Mick Jagger wanted to play the part in the movie version of the musical. You dodged that bullet, Rocky Horror.
So, it's a wash: Will Smith, David Bowie and Tim Curry fight Mick Jagger, David Johansen and Sting to a tie. Can you think of some others to tip the balance?
Winner of the Hugo Award and the John W. Campbell Award for Best New Writer, John Scalzi is the author of The Rough Guide to Sci-Fi Movies and the novels Old Man's War and Zoe's Tale. He's also Creative Consultant for the upcoming Stargate: Universe television series. His column appears every Thursday.
Read More