Get Shorty's Elmore Leonard Got His Start With Westerns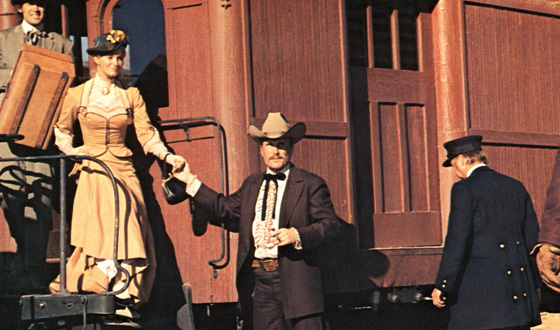 Get Shorty's Elmore Leonard Got His Start With Westerns" width="560″/>

Get Shorty , and Jackie Brown have more in common than crackling dialogue and jackknifing storylines: They all come from the pen of crime novelist Elmore Leonard. The author of over 40 books, Leonard is a king among devotees of hard-boiled fiction… but he learned his craft writing Westerns.
In the 1950s, pulp magazines offered a huge market for Wild West
stories. And
Leonard (at two cents a word) used them as an outlet for dozens of
tales that helped him gain his voice. But this wasn't mere
throat-clearing: Leonard was good at writing them and many of his
stories were optioned by Hollywood.
His first screen credit came with The Tall T ,
produced by the legendary team of director Budd Boetticher,
screenwriter Burt Kennedy, and actor Randolph Scott, whose fatalistic
sensibilities and fondness for charismatic villains were a perfect
match with Leonard. Coming close on its spurs was yet another
low-budget classic: 1957's 3:10 to Yuma ,
adapted from a 1953 short story in Dime Western Magazine. (With the 2007
adaptation starring Russell Crowe and Christian Bale, that story
continues to fill Leonard's coffers.) Through the '60s and '70s the pace
of Leonard adaptations didn't slacken, with Paul Newman's Hombre and Clint Eastwood's Joe Kidd hitting screens.
But Leonard himself was moving on. With the advent of TV Westerns,
cowboy fans were getting their fix from the tube rather than the
newsstand. And so Leonard turned to the crime novels that — with their
quirky dialogue, tight plots, and unforgettable characters — are
unmistakably his. More film adaptations and praise followed, with
Leonard gaining new readers, including some aspiring filmmakers.
"Quentin Tarantino has been a fan ever since he was a teenager," Leonard told The Guardian. "When he was young he stole a book of mine called The Switch from a bookstore and was caught and punished and then went back and stole it again."
Nevertheless,
Leonard is still remembered for his contributions to the Western. In
June, Leonard will be honored by the Western Writers of America with an
award for lifetime contribution.
Savor some of Leonard's vintage sarsaparilla with John Sturge's adaptation of Joe Kidd. Click here for a full schedule of the movie on AMC
Read More