Daily Scan for 03.10.09 – Watchmen Numbers Disappoint, Gibson Is Off Mad Max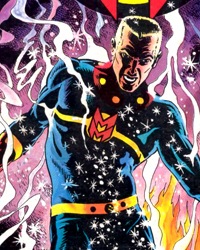 • Watchmen's first weekend disappoints with a paltry $50-odd million in ticket sales. That's not bad, but it's even worse than 300 performed, and it's playing at way more theaters.
• io9 lists 9 comics you should read after watching the Watchmen movie. Miracleman, here we come!
• V is getting a BSG style reboot. But like BSG, the original producer still owns the theatrical rights, meaning we might get two V reboots in different mediums.
• George Miller says the fourth Mad Max film will be a 3D anime feature that won't involve Mel Gibson at all.
• The BBC has posted their latest scifi radio drama, Bring Me The Head of Philip K. Dick, which is narrated from the perspective of a decapitated android head, natch.
• Jathia's Wager, the first open source scifi film, is now available online.
• Slate's Juliet Lapidos explains why Battlestar Galactica ain't so frakkin' feminist after all.
Read More