Columnists John Scalzi and Mary Robinette Kowal Nab Four Hugo Noms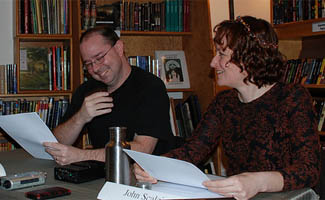 SciFi Scanner is pleased to announce that two of our esteemed columnists, novelist John Scalzi and author Mary Robinette Kowal, have together received a total of four 2009 Hugo Awards nominations.
John Scalzi — the recipient of last year's Best Fan Writer Hugo — received a Best Novel nomination for Zoe's Tale; his book Your Hate Mail Will Be Graded: A Decade of Whatever, 1998-2008 is nominated in the Best Related Book category, while his audiobook anthology, METAtropolis, received a Best Dramatic Presentation, Long Form nomination.
Mary Robinette Kowal — the recipient of last year's John W. Campbell Award for Best New writer — received a Best Short Story nomination for her work "Evil Robot Monkey," an examination of art and the creative process, and, of course, a cybernetically enhanced primate.
Award winners will be announced on Sun., Aug. 9, at the Palais des congrès in Montreal. Best of luck, John and Mary!
Read More