Classic Ten – Office Romances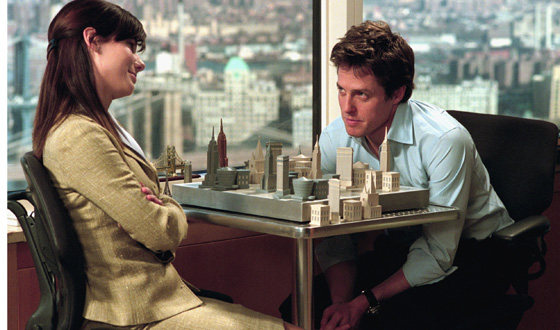 With the amount of time that people spend at work, it's no surprise that close-knit relationships can develop. But what's considered taboo in some corporations is rich fodder for Hollywood screenwriters, who have made the workplace a common setting for blossoming romances — what better way to explain how boy met girl? The following ten relationships might frustrate an HR rep, but they're good arguments for mixing business with pleasure.
10. No Reservations (2007)
Competition between two colleagues can propel
both to new heights of achievement — or destroy them
altogether. Chef Kate Armstrong (Catherine Zeta-Jones) is in danger of
being outperformed by her sous-chef, up-and-comer Nick Palmer (Aaron
Eckhart). Moving the threatened boss vs. talented upstart scenario from the cool confines of a cubicle to the superheated (literally) atmosphere of a restaurant kitchen kicks the excitement up a notch. Bam!
9. What Women Want (2000)
Ad exec and unapologetic womanizer Nick Marshall
(Mel Gibson) is initially flummoxed by his company's new creative
director, Darcy McGuire (Helen Hunt). But after Nick accidentally zaps
himself and acquires the ability to
hear women's thoughts, he sets about foiling Darcy by stealing her
ideas — right out of her mind. An original take on corporate spying, it also works the redemption angle when Nick sets aside his ego and ambition and uses his new power to become a better person… someone that Darcy will want.
8. Two Weeks Notice (2003)
An immature real estate mogul (Hugh Grant) hires a
principled environmental lawyer (Sandra Bullock), although their agendas are at odds. Hubris leads her to accept his offer to work as
his in-house counsel, since she figures she can thwart his
propensity for razing landmark buildings more easily from within than
without. Of course, this mismatched pair realizes their personalities and principles even each other out. What could have been a tiresome tale of do-gooder vs. selfish brat is enlivened by the spunk (hers) and charisma (his) of the leads, both romantic comedy veterans.

7. Superman: The Movie (1978)
If you can't win over a co-worker with flowers,
mini-muffins or hot stock tips, try taking her flying without a plane,
or saving her life by reversing the earth's rotation. That's the path
chosen by Clark Kent (Christopher Reeve) and his caped alter ego,
Superman, in wooing Lois Lane (Margot Kidder). The contrast between the
life of a reporter and that of a superhero gives office drones
something to daydream about — there's more to life than the daily
grind, like saving the world.
6. Broadcast News (1987)
Jane Craig (Holly Hunter) is a smart, serious-minded news
producer, a little embarrassed by her attraction to her show's new
anchorman, the charismatic, but intellectually limited Tom Grunick
(William
Hurt). It's a frenetic — and accurate — portrayal of life at a busy
TV studio, but as in a Jane Austen novel, things are more complicated
than simply girl likes boy. The heroine ignores the sharp, talented
fellow who adores her, ace reporter and world class sweat machine Aaron
Altman (Albert Brooks), adding unrequited love into an already tense
dynamic.
5. Lover Come Back (1961)
An unethical — but charming! — ad executive (Rock Hudson) incurs the
wrath of his counterpart at a competing firm (Doris Day), because he
lures clients with vice rather than a solid pitch. This colorful
mid-century romp is a follow-up to Hudson and Day's
hit Pillow Talk,
and finds them on opposite sides of the moral divide, sparring
furiously. After Day reports Hudson to the Ad Council, he dopes her
with an intoxicating mint — and marries her. As Ogden Nash said, candy
is dandy, but liquor is quicker.
4. Working Girl (1988)
A job in mergers and acquisitions might not be anyone's first choice
for employment these days, but secretary Tess McGill (Melanie Griffith)
has her sights set on the corner office. To get there, she uses both
her "head for business" and her "bod for sin" to claw past her
duplicitous boss and into the personal and professional good graces of
Jack Trainer (Harrison Ford). The glorious opening shots of the
Manhattan skyline set the tone for an uplifting tale in which Tess
proves that a feisty Staten Island girl with ambition can be catnip for the right kind of guy.
3. Jerry Maguire (1996)
Is
it her staunch fidelity? Her adorable young son? Or just the fact that
Jerry Maguire (Tom Cruise) doesn't really have anyone else to turn to
but steadfast, smitten Dorothy Boyd (Renee Zellweger) after he's fired
from his job? A refreshingly non-saccharine romance, the pair's loyalty
and devotion to each other during the tough times demonstrates that even when there's no
official company to rally around, you can still be a team player.
2. His Girl Friday (1940)

Work brought them together, work tore them apart, and then work
brought them together again. Hildy Johnson (Rosalind Russell), a
fast-talking, tough-minded ace reporter once married to her
editor, Walter Burns (Cary Grant), is gearing up to leave the newspaper
business behind and settle into domestic bliss with her supportive but
dull fiancé. But the chemistry between Hildy and Walter is inescapable,
as is her devotion to her career. Scripts this dense and clever don't
come around often, nor does the chance to watch the fierce and funny
give and take between a boss and an employee who are also ex-husband
and ex-wife.

1. Secretary (2002)
Fresh from a brief stint in psychiatric institution, Lee Holloway
(Maggie Gyllenhaal) lands a job with an attorney, E. Edward Grey (James
Spader). Of all the workplace romances on the list, it's truly the most
unconventional: While engaged in the mundane business of a law office,
the two begin a delicate dance toward a sadomasochistic affair. The
strong performances in this frank treatment of an unusual relationship
bring new life to a very old saying: There's someone for everyone.
Which office romance is your favorite? Click here to vote.
Read More