Alien Trespass Director Outlines the Rules for SciFi B-Movies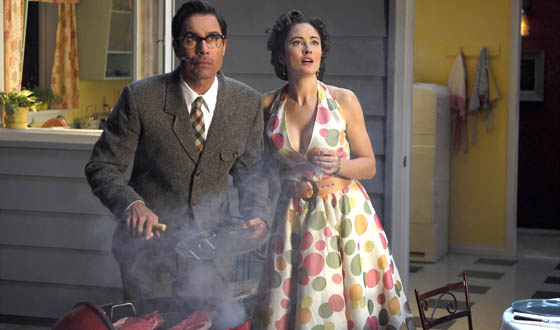 Alien Trespass Director Outlines the Rules for SciFi B-Movies" width="560″/>

The X-Files' executive producer discusses his feature film directorial debut — a throwback to '50s scifi movies — and what it's like to shoot a monster that resembles a male member.
Q: What was the inspiration for making a throwback scifi movie?
A: It was actually [screenwriter] Jim Swift's idea to do this, and I said, "You know this is kind of crazy to do a '50s style movie." But I had a fond memory for them, so I rewatched a few and they were just like I remembered, except I was laughing at everything — everything was so out of style. So I thought it would be cool if we did a true '50s movie, and really did it in the style — don't do it as a comedy knock-off or a spoof or a parody, but do it really like they did it.
Q: Why start the movie with a newsreel?

A: The movie is so unique and different and weird, what we found is test audiences didn't have a clear idea of what they were going to see. It took them a long time to get it. So we came up with this idea that puts us right in the time, right in the frame of reference for the movie, and it's a funny little piece. I always can tell how the movie's going because in the beginning, one of the characters puts two enormous steaks on a grill — if they laugh at the steaks, I know we've got them. And ever since we put the newsreel in, they all laugh at the steaks.
Q: What are the elements you must include to make a true '50s scifi B-movie?
A: Part of it was Jim's genius at cherry-picking from The Day the Earth Stood Still , It Came From Outer Space and War of the Worlds — taking a character from here or there and a monster here and alien there. Here's the old man who lives up by the bluff and believes in aliens and there's the dog. And then I went through every movie I could get my hands on to find these wonderfully funny moments, like when a character is supposed to be walking down the road and he's obviously on a treadmill, and then he stops — and the background keeps going. I found that stuff so charming.
Q: Did your work on The X-Files inform this at all?
A: My job on The X-Files was to produce the show, and in the first season I helped create that look, which was a feature look. What happened over those years was we learned how to make a feature-quality film on a television schedule. And that really helped me because with Alien Trespass, we only had 15 days to shoot the movie. The other thing was that The X-Files was scary as hell a lot of the time, but it was always funny — it always had a sense of humor, and that suits me.
Q: Speaking of which, the monster in your movie has some scary moments — but it's also kind of silly-looking.
A: We worked on drawings and thorough designs, and when we finally went out to take a look at a full-sized model… it looked like a giant penis. It even had the shape on the top. So we changed the shape slightly so it wasn't quite so obvious. The monsters weren't all that great in the '50s, and the directors had to be really clever about how they shot them — and that's what I did. It's not until the very end that you get a full look at the thing, and then you kind of wish you hadn't [laughs]. It's just kind of goofy.
Q: A lot of B-movies are now being remade into serious scifi epics. Do you think someone will ever be inspired to do that with Alien Trespass?
A: Oh I hope not! I don't like remakes. I just think they're a mistake. The only shows you can remake are the ones that weren't very good or successful to begin with. But when you take a classic film — you look at The Day the Earth Stood Still now, and it's funny, but it's a great film. Why mess with it? It's there, you don't have to try and do anything again. It's been done. Go do something else.
Q: What was your favorite scene to shoot?
A: Everything. It was the most fun I ever had in my life. If I die and go to heaven, I'll be shooting Alien Trespass forever.
Want more scifi B-movies? Click here to check out AMC's B-movies site, where you can watch scifi classics for free in full-screen HD.
Read More