AFI Dallas 2009 – Adrien Brody, Robert Towne and Guillermo Arriga Head for Texas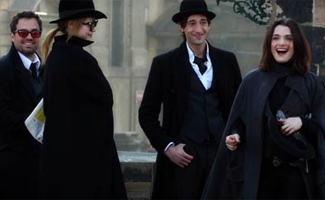 Hot on the boot-wearing heels of South by Southwest comes the 2009 edition of AFI Dallas. Featuring a selection of premieres in a slightly more high-gloss setting than the sprawling party of SXSW, this year's line-up promises a mix of movies designed to bring even more glamour to the Lone Star State. The festival will open Thursday night with Rian Johnson's The Brothers Bloom, a light-fingered, warm-hearted tale of larceny and love starring Mark Ruffalo, Adrien Brody and Rachel Weisz. Johnson's debut, Brick , was a rich reinvention of private eye stories, and the bright, winning Brothers Bloom plays similar tricks on the con artist movie.
On a more serious note, AFI Dallas will present The Burning Plain, the directorial debut of screenwriter Guillermo Arriga, acclaimed for scripts like Babel and 21 Grams .
Starring Charlize Theron as a haunted Portland, Oregon restaurant
manager, the film leaps between the rainy city and the sun-scorched New
Mexico desert as the strands of Theron's life come together. A Dallas
gala premiere is also planned for Kathryn Bigelow's heart-stopping The Hurt Locker, where the director of Point Break and Strange Days puts us alongside a U.S. Army bomb disposal unit in Iraq.
Also highly anticipated in Dallas is Big Fan, starring stand-up comedian Patton Oswalt (Ratatouille, Balls of Fury ) as a dedicated New York Giants fan who has a chance, life-changing encounter with his hero. The directorial debut of The Wrestler screenwriter Robert Siegel, Big Fan is a tough but smart drama with more than a few uncomfortable laughs. Among the special events planned at AFI Dallas are honors for screenwriter Robert Towne, on the 35th anniversary of his groundbreaking Chinatown . A screening of the movie will be followed by a Q&A moderated by critic Richard Schickel.
AMC News will be filing stories throughout AFI Dallas. For more information about the films screening, go to the festival website.
Read More