Adrien Brody Gets AFI Dallas Star Award (and Lands AMC News on Front Page)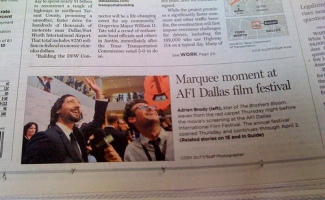 Thursday night in Dallas, I had a chance to interview Adrien Brody behind the scenes before he received his AFI Dallas Star Award prior to the screening of The Brothers Bloom. This wasn't my first time interviewing Brody actually. I'd spoken with him previously at the Toronto film festival about the same movie. But Thursday night we
talked about more than just his film. After our interview, Brody hit the red carpet for the opening night gala, and then once inside the theater he gave a quick talk and screened the film. I live-tweeted the pre-show ceremony, which included remarks by Michael Cain, AFI Dallas CEO and Artistic Director, and Bob Gazzale, the head of AFI. Brody walked up and kept it short:
1. AB: "kinda like a roast. It's weird. Something kinda special bout receiving an award during a recession. Makes you want to go out and shop." 5:22 PM Mar. 26th from Tweetie
2. "be thankful for the humbling cyclical nature of things." 5:22 PM Mar. 26th from
Tweetie
Turns out I made it onto the front page of the Dallas Morning News with Brody in the picture above — something I didn't notice until Ian our sound guy shot over a text with the image. Friday night, a second AFI Star award was given to Robert Towne (screenwriter for Shampoo and Chinatown).
Read More