What to See – He's Just Not That Into You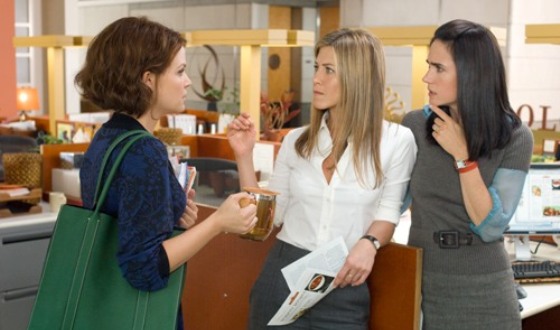 He's Just Not That Into You" width="560″/>


The feeling of dislocation you might experience while watching He's Just Not That Into You — the latest chick flick about dating, mating, and relating — beings to make sense when you realize that you're seeing a film fight itself. Based on the pop-psychology book by Greg Behrendt and Liz Tuccillo, He's Just Not That Into You the movie has a tart, acid snap, but it also perpetuates sugarcoated myths. Plenty of people are going to hate He's Just Not That Into You, but that sentiment is often the best indicator that a movie is doing something interesting.
Director Ken Kwapis has a big, charming cast, including Ben Affleck, Jennifer Aniston, Drew Barrymore, Scarlett Johansson, Justin Long, Bradley Cooper, Jennifer Connelly, and Kevin Connolly, with Ginnifer Goodwin as the closest thing to a female lead. Abby Kohn and Marc Silverstein have turned the book into a series of interconnected moments wherein boy meets girl, girl wants different boy, different boy is obsessed with worst possible girl, worst possible girl is casually seducing married man, and so forth.
The fractured structure of He's Just Not That Into You wouldn't seem to allow for a lot of depth. Surprisingly, the script has some darkness hidden beneath the gloss. Like the underrated Break-Up , He's Just Not That Into You tries to tap into the grown-up complexities of attraction and affection and relationships. Watching beautiful people go through ugly things will probably disappoint moviegoers who were hoping for a light, bright romp. (I cannot recommend this as a date film.)
There are fights — and reconciliations — here that will feel real to anyone who's ever gone through them. Cooper and Connelly's Home Depot meltdown is harsh. But even while the film seems to want to tell us that love isn't like it is in the movies, He's Just Not That Into You still recycles plenty of romantic-comedy clichés. Everyone in it is pretty and skinny and well-off and, for the most part, white. It's the hints of sour realism and bitter doubt under their bright smiles that make the movie worthy of a modicum of respect.
Watch interviews with the cast:


Read More