Web Stalker – With Lesbian Vampire Killers, the Title Is the Hook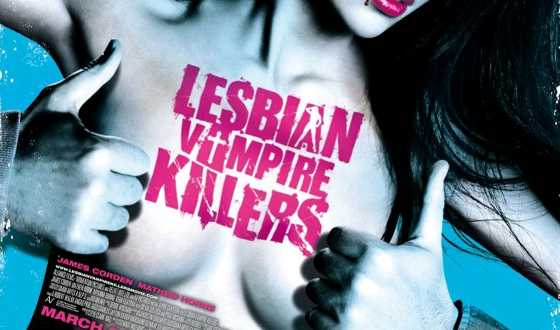 Lesbian Vampire Killers, the Title Is the Hook" width="560″/>

This week's Web Stalker comes to you from the lobby of the Marriott Hotel in Berlin, home not only to one of the world's largest film festivals — running now — but also one of the world's largest film markets — the places where movies are bought and sold for different territories. Among the films available for distribution at this year's market is Phil Claydon's Lesbian Vampire Killers.
If ever there was an example of a title selling a project, then Lesbian Vampire Killers is clearly it. The project first turned up in the markets a couple years back with nothing more than the name and a single photograph and there was never — not even for a single moment — any doubt that the movie was going to get made. Some people start with a script. Some people start with a star. But Claydon? He started with a title.
And, really, what's not to love about that up front approach?
Admit it, you already know whether you're interested in the movie or
not and you've got to admit that it's one hell of a marketing hook.
Once Claydon announced his stars — a pair of British comics from
popular series Gavin and Stacey — it became pretty clear that he was aiming to mimic the success of Shaun of the Dead
but with… lesbians. And people like lesbians, apparently, because
because they've been talking up a storm about this one for a good long
time.
As near as I can tell the first public mention of the flick came all the way back in May of 2006 on my very own Twitch
when the first promo art appeared. The wave of responses as information
trickled out generally fell into three basic camps. First, there were
the happy fanboys, who commented: "I got a Boner" (Jazz, First Showing) "Stop! You had me at Lesbian." (ManchuCandidate, io9)
Next, there were the unimpressed fanboys: "I am sorry to all but theis
movie looks really horrible. I don't think I would even watch for
free." (Democratie First Showing);
"Ok, nice poster, but this film will almost definitely be dog s—.
It's going to be light on the comedy, light on the horror and light on
the lesbian action." (JacksSmirkinRevenge, Empire)
And then there were the confused fanboys who had issues with the
modifiers: "Is it vampires who kill or the killers of vampires?"
(Robin, Shock Till You Drop); "Is the movie bout lesbian vampires that are killers, or about lesbians that kill vampires?
Or is it about some people who go around killing lesbian vampires? That would suck, homophobic Van Helsings?" (myiq2x, Tennessee Guerilla Women)
For the record, it is the vampires who are the lesbians. This mostly
seems like a good thing, but clearly the fans are divided. And it's not
just the usual split based on issues of quality — or perceived lack
thereof — in the trailer,
which was released in late December — although there was that too:
"Wow! They did it! They topped Snakes on a Plane!" (nadine, Pajiba); "Is this a serious movie or straight to dvd?" (German B., Trailer Addict)
Nope, a quick trip to Google shows a couple of interesting little
quirks. First of all, the Germans are all over this thing. Seriously,
there are more German sites listing the movie than there are UK sites,
despite the UK being the country of origin. Something else? You had to
figure this was coming, but real life lesbians — of the
presumably non-vampiric kind — aren't so happy about the project, going so far as to launch a petition
in protest. "They are answering to a stereotypical male fantasy. They
are shown as scantly clad lust objects that feast on the blood, lapping
it up and smearing it around. They're porn stars, not persons." Ladies,
I hate to break it to you, but everybody is already fully aware of your
criticism… and it's precisely why the movie got made.
Read More