Stacie Ponder – I Love Actors Who Love Making Horror Movies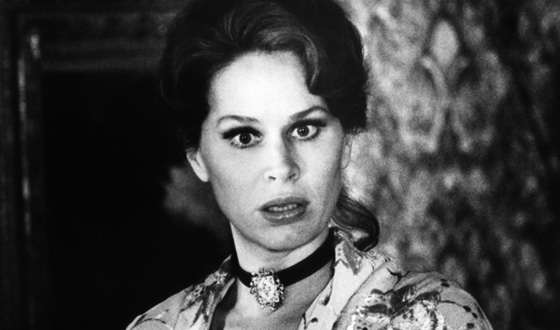 Not long ago, I compiled a wee list of actors who started in horror before moving out of the genre to become household names. Sure, it's all well and good when Jennifer Aniston wants to expand her resume beyond Leprechaun, but the actors who have my heart are the ones who have their feet more or less planted in the world of the fright flick. Though these folks have certainly done more, they're best known for their horror work — and horror is better for it.
Tom Atkins
Any genre fan worth his weight in Karo syrup will tell you straight up: Tom Atkins is the man. As his non-genre work on shows like The Rockford Files and The Equalizer demonstrate, Atkins is usually cast as a cop; barring that, he's a tough guy. Is it his gruff demeanor and no-nonsense attitude that make him horror's King of Cool (yeah, I said it — take that, Bruce Campbell!)? Maybe. Whatever "it" is, Tom Atkins has it; he must be as charismatic off-screen as well, because directors tend to work with him repeatedly. Atkins has appeared in two John Carpenter movies and three George Romero ones. Finally, a whole new generation of genre fans are getting a good dose of Tom; he appears in My Bloody Valentine 3D where he plays — you guessed it — a cop.
Notable movies: The Fog (1980), Creepshow (1982), Night of the Creeps (1986)
Karen Black
You know what they say: Once you battle to the
death with a Zuni fetish doll, there's no going back. OK, so maybe no
one says that, it's still true! Early in her career, Karen Black
appeared in films such as The Great Gatsby and Five Easy Pieces ; in 1975 she famously duked it out with that evil doll in the made-for-TV classic Trilogy of Terror
and horror found a new queen. Thirty years on and she's still going
strong in the genre, working alongside folks like Rob Zombie. And if he
likes her, she has to be cool, right? All hail Karen Black!
Notable movies: Burnt Offerings (1976), Mirror Mirror (1990), House of 1000 Corpses (2003)
Ken Foree
With his imposing stature, his deep voice, and his
ubiquitous sunglasses, Ken Foree simply exudes cool. In fact, he was
the height of cool in one of his very first roles: Peter in George
Romero's Dawn of the Dead .
Peter is the type of guy you want on your side during the inevitable
zombie apocalypse — the type who's simply going to kick zombie ass.
After a decade or two relegated to bit parts on TV shows, Foree
returned to zombieland in the Dawn of the Dead
remake, intoning the famous tagline "When there's no more room in Hell,
the dead will walk the Earth." He forgot to add, "…and then I'll kick
their asses."
Notable movies: Phantom of the Mall: Eric's Revenge (1989), Black Santa's Revenge (2007), Halloween (2007)
Bill Moseley
I was recently watching an episode of Unsolved Mysteries
(don't judge) and lo and behold, there was Bill Moseley in one of the
re-enactments. As you might expect, he wasn't portraying some guy who
was reunited with a lost love or something equally heartwarming;
rather, he was a real wackadoo who held a classroom of kids hostage
with his homemade bomb. Though he's appeared in horror movies since the
early days of his career, Moseley's status as a true genre icon was
solidified after his appearances as the homicidal Otis Driftwood in House of 1000 Corpses and The Devil's Rejects .
Notable movies: The Texas Chainsaw Massacre Part 2 (1986), Night of the Living Dead (1990), Repo! The Genetic Opera (2008)
Debbie Rochon
If you seen a horror movie in your lifetime,
chances are at least one of them has starred B-movie goddess Debbie
Rochon. Sure, titles such as Who Wants to Be an Erotic Billionaire?
might give you pause… but make no mistake: Rochon can actually act, and
she brings a bit of quality to even the lowest-budget affair. She's the
undisputed queen of Tromaville, having appeared several efforts by
Lloyd Kaufman and company, including Citizen Toxie and Poultrygeist. As her appearance in the 2007 mockumentary Being Michael Madsen proves, she's got crossover appeal. Genre fans should be thankful, however, that she stays firmly entrenched in horror.
Notable movies: Tromeo and Juliet (1996), American Nightmare (2002), November Son (2008)
Dee Wallace
New horror filmmakers are finally discovering
what we old folks have known for years now: Dee Wallace freakin' rocks.
She was hugely popular in the early '80s but dropped off the genre
radar for a while as she appeared in a string of family flicks. Since
the new millennium she's been back with a vengeance in movies such as Halloween and The House of the Devil.
It looks like she's not going anywhere soon: Wallace has nearly 20
films in the pipeline. Young and old horror fans alike, rejoice!
Notable movies: The Howling (1981), Cujo (1983), The Frighteners (1996)
Horror
fans are nothing if not extremely dedicated…or do I mean
"deadicated"? (Ugh, no wonder I never bust out the puns.) Anyway, the
point is that if you're an actor whose appeared in horror movies — no
matter the film, no matter how small the role — the fans will repay
you by lining up for your autograph at conventions and following your
every career move. For those actors who have carved out their own niche
in the genre by appearing in film after film, the sentiment is
undoubtedly tenfold. Unless that's creepy, in which case we should all
just say, "Thanks!"
A fan of horror movies and scary stuff, Stacie Ponder started her blog Final Girl so she'd have a platform from which she could tell everyone that, say, Friday the 13th, Part 2 rules. She leads a glamorous life, walking on the razor's edge of danger and intrigue.
Read More