Scott Sigler – Greatest Supernatural Teen Tournament: Carrie White vs. Sean Crenshaw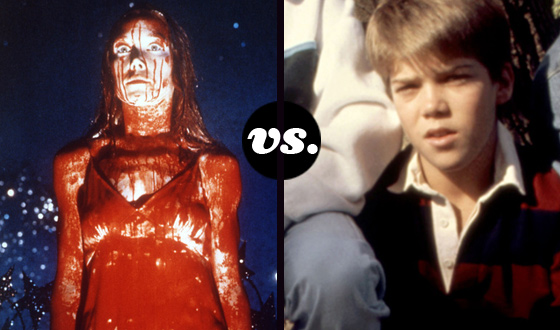 None of us saw this coming! The top- seed Harry Potter and the second-seeded Edward Cullen — the undisputed heavyweights of supernatural teen movie icons — seemed destined to clash in the finals. We all envisioned a bloody battle that would leave only one of these boys standing tall as the champion of the world. For J.K. Rowling to battle Stephanie Meyer, even if by proxy, just as Meyer faced off against Stephen King last week when Edward Cullen met Carrie. After all, who could stop Harry and Edward? Who would dare?
Carrie White and Sean Crenshaw, that's who.
Carrie what? Sean who? These kids took out the biggest box office sensations since that horse in Ben-Hur ? As Chris Berman likes to say on ESPN, "That's why they play the games."
Carrie
White, OK, that I can understand. She's an icon of horror fiction and
horror film, the blood-covered teenage girl who strikes a blow against
the catty, bitchy "popular" kids that wreak such havoc in schools.
People identify with her as the ugly ducking- turned-swan smashed back
to ugly duckling again. Carrie crushed the No. 15 seeded Ginger
Fitzgerald ( Ginger Snaps ), then busted up Regan MacNeil (The Exorcist) en route to her semifinal win over vamp-lothario Edward Cullen of Twilight. A No. 3 seed beats a No. 2 seed? I can see that happening. It makes complete sense.
But how about a No. 12 seed beating the No. 1 seed? Sean Crenshaw of Monster Squad? Just who is this kid? I mean, come on, it was frickin' Harry Potter,
the biggest screen sensation since Young Luke Skywalker went into Toshi
Station to pick up some power converters. Crenshaw has notched nothing
but upsets, staring with his first round win against No. 8 seed Scott
Howard ( Teen Wolf ). After that, he notched a second-round shocker over Hermione Granger (Harry Potter).
It was obvious to assume, then in Round 3, Harry would pimp-slap
Crenshaw right in his grille, but… that's why they play the games.
So
here we are, a pair of pre-'90s combatants squaring off for a
championship dance. The Monster Squad (1987) squaring off agaisnt Carrie (1976) just shows you how powerful nostalgia can be among AMCtv.com's readership. And what better way to assess our
contestants than to witness them in their original glory? Click here to see that famous nard scene from The Monster Squad.
And here to see Carrie's prom night revenge.
Got it? Now which one deserves your vote? The polls are open until 4 PM (ET) on February 18. Carrie? Sean? Let's get it on!

New York Times bestselling author Scott Sigler writes tales of hard-science horror, then gives them away as free audiobooks at www.scottsigler.com. His new novel, Contagious,
hit bookstores on December 30 and is currently available. If you don't agree with what Scott says in this blog, please
email him scott@scottsigler.com. Please include all relevant personal
information, such as your address and what times you are not home, so
Scott can come visit and show you his world famous "Chicken Scissors."
Read More