Scott Sigler – Greatest Supernatural Teen Tournament: Welcome to the Final Four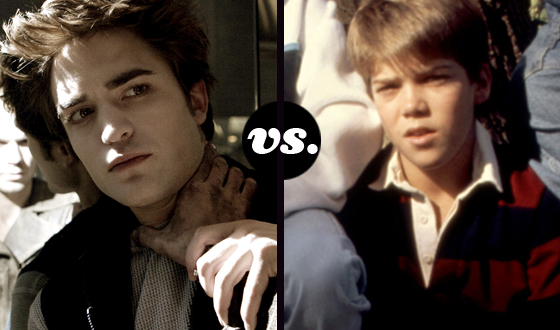 Another chapter closes in our Greatest Supernatural Teen Tournament. The big news: Sean Crenshaw ( Monster Squad ) registered a shocking upset, besting Harry Potter heroine Hermione Granger. A lowly No. 12 seed, Crenshaw registered a first-round surprise win over No. 5 seed Scott Howard from Teen Wolf . We had written him off for dead against the J.K. Rowling juggernaut character of Hermoine, the No. 4 seed. Well surprise, surprise, surprise, Crenshaw comes out on top again, and is ready to face top-ranked Harry Potter.
Harry Potter's road to the semis hasn't been without its ups and
downs. He had a cakewalk in his first round encounter with River Tam (Serenity), but beating a No. 16 seed was a far different cry than his battle against No. 8 seed, Damien Thorn ( The Omen II ).
Satan's son pushed Harry to the edge, with each of them rotating in and
out of the lead. Ultimately, Harry triumphed, with 694 votes to
Damien's 636.
In the bottom bracket, all things went
according to Hoyle with the No. 2 seed, Edward Cullen, heading into a
brutal semifinal match with the No. 3 seed, Carrie White. Edward, of Twilight fame, barely eked out a win over Lydia Deitz in Round 1, then narrowly defeated fellow vamp David ( Lost Boys ) in the second round. (So that answers our question if you prefer your bloodsuckers sweet and dreamy.)
Carrie demolished Ginger Fitzgerald ( Ginger Snaps ) in the first round, and bested a game Regan MacNeil (The Exorcist) in her second-round tilt. The fight between Edward and Carrie takes on greater significance following Carrie author Stephen King's comments about the writing ability of Twilight author Stephanie Meyers. So it's King's Carrie vs. Meyer's Edward in a battle to reach the finals.
These semifinal match-ups are in play until February 11, so get to it!

New York Times bestselling author Scott Sigler writes tales of hard-science horror, then gives them away as free audiobooks at www.scottsigler.com. His new novel, Contagious,
hit bookstores on December 30 and is currently available. If you don't agree with what Scott says in this blog, please
email him scott@scottsigler.com. Please include all relevant personal
information, such as your address and what times you are not home, so
Scott can come visit and show you his world famous "Chicken Scissors."
Read More