Uncategorized
Q&A With Danny Glicker, Oscar Nominated Milk Costume Designer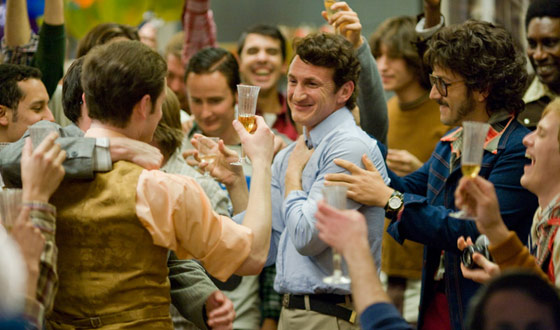 <img src="http://dev.blogs.amctv.com/wp-content/uploads/2009/02/milk-560.jpg" alt="" title="Q&A With Danny Glicker, Oscar Nominated Milk Costume Designer" width="560″/>

Milk earned costume designer Danny Glicker an Academy Award nomination for the movie's painstakingly accurate wardrobe. AMCtv spoke with the designer about the fine art of dressing hundreds of men in Levi's 501s, and the radical heyday of the "Castro Clones."
Which scene was the most fun to plan?
Definitely the marching scenes. There were hundreds of actors in '70s clothes who were in tune to exactly what we had envisioned as an accurate depiction of Gay Freedom Day. Sometimes I wish I got to dress more ladies, which is why the City Hall scenes were a blast, with all the secretaries, but I really loved those scenes with hundreds of activists all marching at once.
What outfit was the most challenging?

When I was planning Harvey's outfit that he wore during the assassination, I worked from the real suit that Harvey was murdered in, which was at the San Francisco archives. The suit and shirt had bullet holes and dried blood. That suit was my wake-up call: This was a dream job, but my first duty was to honor the authenticity of the film.
Do you recreate or acquire the clothes?
We did a ton of large-scale thrifting….The one thing all of Harvey's surviving friends told me was that everyone shopped at Goodwill. They had no money. Those old t-shirts and ratty jeans had to convey that this was a really grassroots effort, that it wasn't spurred by dilettantes with privileged lifestyles. They were literally fighting for their lives, and So even if [the scene] was taking place in 1976, lots of them had clothes from 1969. It was important when everyone made it to City Hall that they didn't look too cleaned up, because those jobs also paid very poorly. Lots of Harvey's friends told me how nervous they were that a black pair of pants wouldn't match with a black blazer because they had bought them at a thrift store as separates.
Beyond Harvey's wardrobe, who was your favorite character to dress?
Scotty [Smith, played by James Franco] was such a wonderful indicator of the evolution of style over time. When we first meet him, he's on the tail end of the New York countercultural hippie movement, so you see him in Henley's and jeans that are almost falling apart. As the movie progresses, Scotty takes his own appearance more seriously as he begins to question his place in Harvey's life. He begins to project himself in a more outgoing and attractive fashion. He goes from hippie to a presentable adult, with his shirt ironed and tucked in, because at that point he's on the dating scene. By the end of the movie he's really engaging in a polished version of the Castro Clone.
What's a Castro Clone?
It was a fashion statement from when gay men were first exploring the idea that being gay doesn't mean fitting into a highly feminine stereotype of feather boas and swishing. There was a real focus of traditional forms of masculinity, where men wore super, super skintight Levi's 501s, where seen as as ruggedly, iconically masculine. The shirts weren't tight by today's standards, but back then those shirts–either logo tees or snap-front Western flannels–were a little cutting edge. Mustaches got really popular as well. But everyone looked so similar that they earned the nickname "Castro Clone Uniforms." Reclaiming masculinity was political, social, and groundbreaking because gay men were just beginning to understand that they were far more complex than what the world had led them to believe they were.
Read More