Uncategorized
Q&A – Peter Bart, Variety Editor-in-Chief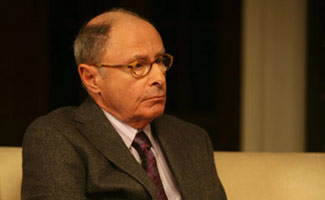 Peter Bart, the editor-in-chief of Variety and a former Paramount executive, talks to AMCtv.com about his career, the Oscars and partnering with Peter Guber — first on Shootout and now on AMC Storymakers, which debuted on AMC last night.
Q: You started your career as a reporter. What drew you to Hollywood?

A: I was assigned to Los Angeles to be the West Coast correspondent for the New York Times. After three or four years, I'd become friendly with Bob Evans, who was offered this job as the head of production at Paramount. He basically said to me, "Look, I don't know what the hell I'm doing in this job, don't have the background for it. And since you don't either, why don't you join me? We'll both be finding our way together."
Q: What do you consider your greatest accomplishment as an executive at Paramount?
A: What I'm pleased about is simply that I helped tee up a number of
pictures in that period of the next eight years that turned out to be
recognized as somewhat successful — The Godfather, Rosemary's Baby, Harold and Maude, Chinatown, The Longest Yard and True Grit. As an executive, you can tee something up, but it's up to the directors to make them. We had a good streak there.
Q: In more than five years of co-hosting Shootout, who's made for the most interesting interview?

A: That's tough because we've had so many people who surprised me by
how interested they were in talking about what they did and how
insightful they were, and often, I was surprised because people who I
didn't know would turn out to be really very interesting. Two examples
from the music business: P. Diddy and Quincy Jones. They were great
guests of ours. They were very interested in film, but their
backgrounds were in music. I didn't know either one. Then there are
people like Steven Spielberg or Dustin Hoffman, who are obviously
veterans of the film business who just did an excellent job for us.
Q: What's the biggest challenge in moving from the typically two-on-one interview format of Shootout to the roundtable style of AMC Storymakers?

A: The fun of that is that you really don't want to do an interview in
the traditional sense. You really want to have intelligent
conversations that are more leisurely and hopefully, more insightful.
And that's quite a different kind of show and a very interesting show
to do — and one that pleases me a lot because the interview format can
be tiresome.
Q: Is there anyone you'd love to interview that you haven't yet?

A: We've achieved our wish list to a large degree. There are a couple
stars who are habitually shy about talking about their work. A comic
like Jim Carrey, who likes to indulge himself now and then in serious
movies, it would be fun to talk to him about what his aims are. But he
tends to say, let me show you instead of talking about it.
Q: What's your favorite thing about working with Peter Guber?

A: What's fun about Guber is his level of intensity. He can't do
anything in a half-hearted way. He takes everything very seriously.
Sometimes we play off each other because Guber is very interested in
the business of the business, and there are times when he will ask
questions that are very astute, but of a business nature and I will try
to ask questions of a personal nature, so we sometimes collide in that
regard. Every once in a while he looks at me and says, "What are you
asking him that for?" and I'll do the same to him.
Q: How has the significance of the Academy Awards changed over time?

A: The Oscars used to be more about pictures that were considered more
commercial Hollywood movies. In recent years, there's been a tendency
for pictures that were not "popcorn" pictures to take a bigger role and
that has become a trend.
Read More