Uncategorized
Q&A – Henry Fernaine, Revolutionary Road Executive Producer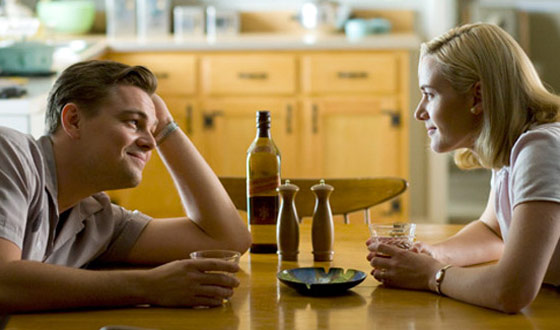 <img src="http://dev.blogs.amctv.com/wp-content/uploads/2009/02/revolutionary-road.jpg" alt="" title="Q&A – Henry Fernaine, Revolutionary Road Executive Producer" width="560″/>

Revolutionary Road executive producer Henry Fernaine talks to AMCtv.com to discuss his favorite deleted scenes, the Titanic legacy, and who lost his voice on set from screaming at top volume.
Q. How consciously did you pursue Kate Winslet and Leonardo DiCaprio for a movie about a crumbling marriage?
A. We decided that Kate deserved to die instead of Leo this time [laughs]. At the end of the day, I'll just say we got lucky because we had great material to work with. Kate was the first to express strong attachment to the material a couple years back, so we went out in search for a director. Ultimately Kate got her husband, Sam Mendes, on board. All of a sudden you have a stellar team, and it was almost an easy sell to Leo. It seemed right that the two of them would unite for such an emotional journey.
Q. The movie is dedicated to Kate and Sam's kids, but it's easy to forget in the midst of Frank and April's chaos, they have two children underfoot.

A. That's part of the tragedy of it all, that we have this young
couple who are so trapped by their own lives that they forget the
crucial crux of their existence, which is their own family.
Q. What scene was the hardest to film?
A.
The emotional fights turned out to be really physically draining, like
when April and Frank start verbally attacking each other. Leo actually
had to take the day off because he lost his voice from all the yelling.
Q. Were any scenes left on the cutting room floor?
A. There's
one scene that's a flashback to when Frank was a little child sitting
on a bench at his father's office. His father wants to introduce him to
a top boss, but the secretary says, "I'm sorry, the boss won't be able
to see you today." Later in the movie, Frank gets promoted and has the
power to walk through that boss's door to shake his hand. We see why
it's hard for him to give up this privilege and move to France. The
other deleted scene I loved was the break-up scene between Frank and
Maureen [Zoe Kazan] where she invites him over to her apartment, and
she disappears into the kitchen. He's sitting on a chair ready to break
up with her when she emerges half-naked doing the rumba. She falls in
arms, ready to give herself up to him again, and he breaks up with her
right there. She's flabbergasted and walks back into the kitchen.
Q. What did you think of the Wall Street Journal's article "Why Does
Hollywood Hate the Suburbs?"
A.
That article surprised me. The movie is much more concerned with the
timeless problem of relationships than it is concerned with "evil"
suburbia. Frank and April can't communicate. Like when Frank's driving
the car home after seeing April's play, and he says, "I guess it wasn't
a success." That's a damaging thing to say to anyone in that situation.
This film's ultimate concern is marriage, and the inability to
communicate with your life-long partner.
Q. Interpretations of Frank and April are very wide-ranging. What's your preferred outlook?
A.
It was interesting to see how differently people understood them.
That's part of why we included a flashback to when they first fell
madly in love, so we could understand why those two were together at
all. I don't dislike Frank and April; I'm saddened by them. I had hoped
they could make it, but it's just a reminder of how difficult it is
when you can't speak honestly to the person you love.
Read More