Now or Then – Fired Up or Bring It On?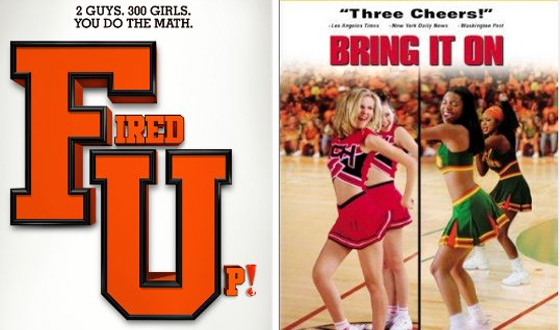 Fired Up or Bring It On?" width="560″/>
Now: Fired Up (2009)Then: Bring It On (2000)
In Fired Up (2009), girl-crazy football studs Nick (Eric Christian Olsen) and Shawn (Nicholas D'Agosto) join their high school's hapless cheerleading team in an attempt to score with the hotties at Cheerleading Camp. Needless to say, there they learn that there's more to life than just babes — sort of. In Bring It On (2000), Torrance (Kirsten Dunst), the newly-anointed captain of her school's cheerleading squad, has to contend with a bitter local rivalry, a new recruit, and romantic turmoil, all while leading her team to the Nationals to defend their title. Which of these cheerleading flicks should you raise your pom poms for?
Our Beautiful Cheerleader Captain in Love


Fired Up: Tigers captain Carly (Sarah Roemer) can tell from the get-go that our heroes are just a couple of horndog frauds, but she can't help but fall for sensitive Shawn. This naturally causes problems with her vain, philandering, older boyfriend, who's in med school.


Bring It On: Toros captain Torrance doesn't really have any jock impostors to deal with, but she does fall for sensitive alterna-stud Cliff Pantone, who likes punk rock and couldn't care less about cheerleading. This naturally causes problems with her vain, philandering, older boyfriend, who's in college.

The Winner: Bring It On. Torrance is a real character, whereas Carly is just a stock object of desire — though we'll admit Roemer does her best to give the character some humanity.
The Big Bad Rivals


Fired Up: The defending champion Panthers dress only in
black, and walk everywhere in perfectly coordinated unison. They also
seem to have a bitter rivalry with the Tigers, even though the Tigers
are always in last place.


Bring It On: The East Compton Clovers are a
super-talented, under-appreciated and predominantly African-American
squad who are angry at the Toros because that team's former captain has
been ripping off the Clovers' routines for years.
The Winner: Bring It On. The story of the Clovers is
actually surprisingly touching, and their rivalry with the Toros takes
the movie in a somewhat unexpected direction.
The Final Face-Off


Fired Up: Cheerleading camp ends with a competition among
the participating teams, giving our heroes a chance to redeem
themselves and save the day by showing how much they actually care
about cheering.


Bring It On: Despite the Clovers' anger, Torrance tries to
help them get to the Nationals, so the two teams can finally square
off. The Clovers' captain initially rejects her help, but they do get a
chance to make up during the final competition.

The Winner: Bring It On, though we admit that the contest in Fired Up is a lot funnier — if only because it's filmed with all the aesthetic grace of an '80s sitcom.
The Hardest Cheerleading Move in the World


Fired Up: The Fountain of Troy is so difficult and
dangerous, it's actually been banned from competition. Of course, our
heroes have to perform it in order to have a fighting chance.


Bring It On: Early on, Torrance tries to get her squad to
do a Wolf Wall, "only the hardest pyramid known to cheerleading and to
mankind," resulting in a teammate's injury.

The Winner: Fired Up. The Wolf Wall is a real cheerleading stunt, but the Fountain of Troy sounds more strange and evocative.
The Verdict


Fired Up: Totally predictable, it's basically a watered
down teen sex comedy, although it's often a lot funnier than it has any
right to be. It probably would have been a huge hit in the '80s.


Bring It On: It's a lot smarter and better acted than your
average teen comedy, and the cheerleading sequences are phenomenally
staged and directed.

Winner: Bring It On. It's The Godfather of teenage cheerleading movies — whereas Fired Up is, at best, the Encino Man of teenage cheerleading movies.
Read More