No Joke, Heath Ledger Owes His Oscar Nomination to Superman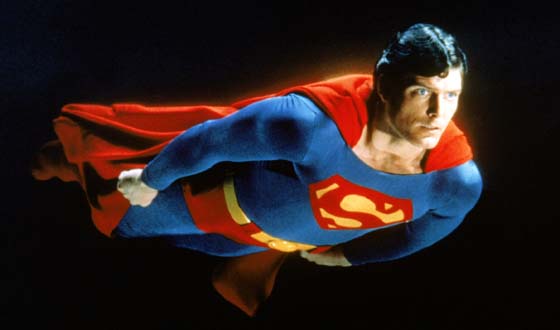 Superman" width="560″/>

When the pundits were predicting this year's Oscar nominations, Heath Ledger's posthumous supporting actor nod was all but a guarantee, he having already swiped a Golden Globe for a role that most critics and fanboys agree reset the standard for movie villainy. More remarkable than his performance, however, is the Academy's willingness to embrace it after decades of ambivalence towards the genre. Typically relegated to categories like visual effects (if at all), comic book movies have long struggled for legitimacy in Oscar's eyes. Ledger could very well become the first actor to win a statue for a superhero role, but his nomination might never have happened were it not for these trailblazers who dared the Academy to look at the genre as more than spandex and "POW" placards.
Superman (1978)
The grandfather of all epic comic book flicks kicked off the genre as we know it, and proved that superhero movies could be deeper than your average Saturday-morning cartoon. John Williams was nominated for his majestic score, while Stuart Baird scored a nod for his seamless editing. But the only award this classic won was a "special achievement" for visual effects — a shame given the movie's Oscar-worthy pedigree (the screenwriters behind The Godfather were responsible for putting words in Clark Kent's mouth) and breakthrough performance from Christopher Reeve.
Howard the Duck . (All did well in the Razzie Awards however, with Howard scoring "Worst Picture of the Decade" in the same era that gave us the Ernest movies.) But Anton Furst and Peter Young's darkly Gothic vision of Batman's crime-ridden city brought comic books back to Oscar's attention, scoring the duo a win for Best Art and Set Decoration. Sadly, Furst committed suicide in 1991and never got to see how his work would define the genre for decades to come.
Dick Tracy (1990)
Al Pacino's campy turn as Tracy rival Big Boy Caprice is the polar-opposite of Ledger's Joker, but it's also the most fun the serious actor has ever been on the big screen. Like Ledger, Pacino scored a Best Supporting nod for his performance while the films' vivid art direction and makeup won their respective categories. And as an added bonus, Warren Beatty's entertaining romp is also the only comic movie that can claim on its original soundtrack an Oscar-winning song penned by Stephen Sondheim.
Ghost World (2001) and American Splendor (2003)
After years of technical nods, two flicks based on comics about social misfits scored nominations for their hilarious and moving screenplay adaptations. Both movies hew closely to their source material, thanks to their respective creators' involvement in the moviemaking process (Ghost World scribe Dan Clowes holds the distinction of being the only comic book creator with an Oscar nod under his belt). And though both ended up losing their category to the Best Picture winners of their respective years, they still scored multiple critic and year-end awards, upping the profile of the indie comics scene.
Road to Perdition (2002)
This pair of thrillers — based on grim, black & white graphic novels — proved to be right up the Academy's alley with their casts of acclaimed actors and behind-the-scenes folks. Conrad L. Hall was awarded a posthumous Best Cinematography award for the minimalist look he lent Sam Mendes' Perdition — which also scored noms for its art direction, score, and sound — while Paul Newman received a Best Supporting Actor nod for his fatherly Irish gangster. Meanwhile, screenwriter Josh Olson received an adapted screenply nod for expanding A History of Violence from its pulpy roots, and William Hurt landed a Best Supporting Actor nomination despite only spending five days shooting his small, but memorable, role.
What will follow in The Dark Knight's footsteps? Watchmen, based on one of the most acclaimed works of fiction in any genre, seems like a no-brainer come next awards season. We'll see how it fares, though, since many people fear Dark Knight proved a lingering Academy bias against superheroes in the Best Picture category. Only time will tell.
What do you think? Has The Dark Knight changed comic book movies' fortunes at the Oscars? Does Watchmen stand a chance for a Best Picture nom next season?
Click here to vote for your favorite Oscar nominees.
When not writing for places like The Onion and HBO, Nick Nadel is in line at the comic book store alongside the other geeks, er, fans of speculative fiction. His most prized possession is a 1960s Batman comic wherein the Dynamic Duo are trapped inside a fortune cookie factory.
Read More