Mary Robinette Kowal – For Teens in Fantasy, It's Not Easy Being Big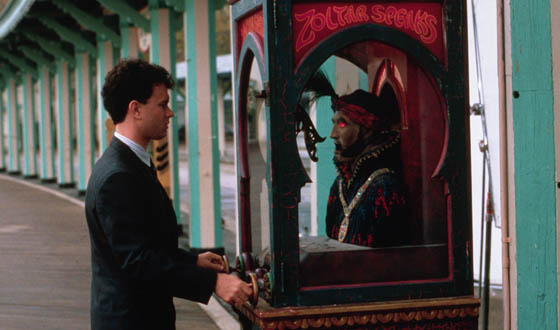 Big" width="560″/>

I've been thinking a lot about the growing process lately, as we're getting ready for my fifteen-year old nephew to come visit. The task of finding things that will be fun for him to do in New York is an interesting one, because it requires me to actively remember what it was like to be a teenager. So, I thought that this week, we would take a look at the unique ways fantasy can shed light on the desires and conflicts of growing up.
One of the feelings I remember most as a teen was the belief that everything would be different — people would listen to me — if I were just a grown-up. In Big (1988) Josh Baskin (David Moscow & Tom Hanks) embodies that belief, and feels thwarted at every turn by his small stature.The thirteen-year-old makes a wish on a carnival fortune teller and the next morning wakes up a 35-year old man. Being an adult is by turns terrifying and glorious — and although Josh finds success in his new life, he also realizes what he's missing. Feeling like a child trapped in a man's body is a lot of what being a teenager is about — if only teens could glean Josh's wisdom when he decides to stay a kid.
Big is not the only movie to explore the idea of body and soul reversal. Freaky Friday (1977) takes the same idea of children becoming adults, and also adds the reverse. Annabelle Adams (Jodie Foster) can't believe how hard her life is and is convinced her mother (Barbara Harris) can't understand the pressures of being a teenager. Her mother thinks that Annabelle can't understand what it's like to to parent two children. In a fateful moment, they both say, "I wish I could switch places with her for just one day" and swap bodies. There are times when you might wistfully sigh, "Oh, to be young again," but if you were actually offered the opportunity, would you take it? Freaky Friday viscerally demonstrates that neither adulthood nor teen life are all they are cracked up to be — but more importantly, it demonstrates there is a time for everything, and no time like the present.
Teenagers usually don't need a specific motivation to display angst, and nowhere is that better demonstrated than in Mirrormask (2005). Helena (Stephanie Leonidas) has the life most kids dream about — her parents run a circus, for crying out loud. In a fit of anger, she shouts at her mother the oft-repeated line, "I wish you were dead." When her mother collapses during an act, Helena retreats into her drawings to cope with her depression and guilt, crossing over into a fantastic world. Every window she looks through in that world shows her the world she came from, where a girl who looks like her exhibits every anti-social behavior invented by teenagers. As many parents complain, she really does become a different person. Only when Helena learns to accept her real life and her circumstances is she able to return to it.
Of course, no conversation about growing up fantasy would be complete without Peter Pan (2003). Peter (Jeremy Sumpter) — a boy who never grows up — represents not just the desire to stay a child, but childrens' active distrust of adults. Adults demand responsibility and are forever wanting kids to put away childish things. At the same time, they try to protect children from things that are too "adult," leaving them with a gaping view of the unknown. Is it any wonder that Neverland seems so appealing? Not only does it fulfill both child fantasies (playing all the time) and adult (taking care of yourself), but adults like Captain Hook treat them as equals and are completely transparent.
Fantasy movies are particularly adept at pointing out the transition from childhood to adulthood. It can be a frightening time, when you are too old to be a child, too young to be considered an adult. So when my nephew comes to visit, I think I'll try to find a play (he likes theater) that might be a little too "old" for him. And if he selects another activity that might be a little too "young" for me, I'll go along without complaint and let him take me on a brief sidetrip back to my youth. Fantasy is an excellent reminder that there is value in both, and that being in transition is a rare opportunity.
Mary Robinette Kowal is the winner of the 2008 John W. Campbell Award for Best New Writer and a professional puppeteer. Her first novel Shades of Milk and Honey is being published by Tor in 2010.
Read More