Mary Robinette Kowal – Turning 40 With Mary Poppins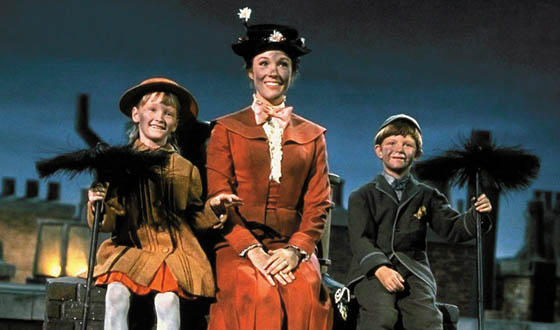 Mary Poppins" width="560″/>

On Sunday I'm turning 40, which I am strangely excited about because I've always thought that 40 would be the age at which I would finally be taken seriously. Understand this is profoundly different from being old — my grandmother turned 104 yesterday, so I feel like I still have decades before I'm physically aged, and I doubt that I will ever feel old internally. I will, for instance, always love the world of fantasy, which by its very nature requires you to be young at heart. So I hope you'll indulge me in a little bit of nostalgia as I look back at some of my favorite childhood movies, all of which just so happen to be fantasies… Seriously. What did I just tell you? Comply!

Mary Poppins (1964)
It's not just that we have the same first name, though I'll admit that doesn't hurt. As a child I loved it because of the magic. As an adult, I'm fascinated by the realization that this movie is actually an urban fantasy: You have a middle-class British family with an unexceptional life, until Mary Poppins (Julie Andrews) arrives. She has a bottomless carpet bag, she can clean a room in the blink of an eye, and she jumps in and out of sidewalk chalk drawings. By using household magic, she makes order and discipline cool, which appeals to my adult domesticated ways. She also demonstrates that you can find wonder in everyday activities, which helped define my whole career path. Heck, I'll still stop by sidewalk art and wonder if I could jump into it.
Dr. Dolittle (1967)
The images and creatures are what I remember most from this amazing children's book adaptation. Thanks to his pet parrot, Dr. Dolittle (Rex Harrison) learns to speak 500 animal languages, which makes being a vet significantly easier. The ability to communicate with man's best friend is still high on my list of ultimate fantasies, and with his Edwardian style and far-reaching adventures, Dr. Dolittle would in many ways be right at home with the League of the Extraordinary Gentlemen — especially when we reach the end of the movie and he finds the Great Pink Sea Snail. Traveling inside a sea snail? Hellooooo, Nautilus.
Chitty Chitty Bang Bang (1968)
Speaking of traveling, um, flying car! What's not to like about this movie? You have characters with names like Caratacus Potts (Dick Van Dyke) and Truly Scrumptious (Sally Ann Howes) undertaking an epic automotive adventure. What starts off as just a down-on-your luck family with a busted up ride quickly transforms into a proto-Steampunk flick complete with zeppelins. Add to that the Child Catcher –to this day one of the creepiest villains to ever cross the screen — and you have a formula for ultimate fantasy escapism.
Willy Wonka and the Chocolate Factory (1971)
Now, I'll admit this one could arguably be deemed straight science fiction since all of the wonders Willy Wonka conjures (i.e., chewing gum that will turn a girl blue and cause her to swell up like a blueberry) are the result of invention as opposed to magic But the world is so fantastical in both its visual appeal and the sheer grandiose nature of the "science" that I am totally claiming it for fantasy. What I love about this movie is that it uses its fantastic elements to expose human fallacy, whether it's being sucked into a chocolate river or being shrunk into a television. Sure, you can talk about gluttony or greed in other ways, but the fantasy in Wonka gives it a gloriously graphic representation. Plus, I've always wanted my own glass elevator.
Charlotte's Web (1973)
By now you've noticed that most of my choices are musicals with a high incidence of talking and singing animals in them. Charlotte's Web not only falls into that camp, but it is well-nigh the perfect movie in my opinion. The animation captures the style of the original illustrations in a visual feast. But the fantasy aspect, that the animals talk and work together, is what really makes it for me. Wilbur, facing certain death, is saved by a spider who can read and write. The story is a beautiful parable for friendship and sacrifice, and still makes me weep every time I watch it.
Now, for my birthday, what I'd like from you is to hear about which of your favorite childhood movies (fantasy-skewed, of course) will never grow old.
Mary Robinette Kowal is the winner of the 2008 John W. Campbell Award for Best New Writer. She is also the art director at Shimmer Magazine and a professional puppeteer. Her column appears every Friday.
Read More