Classic Ten – Drag Performances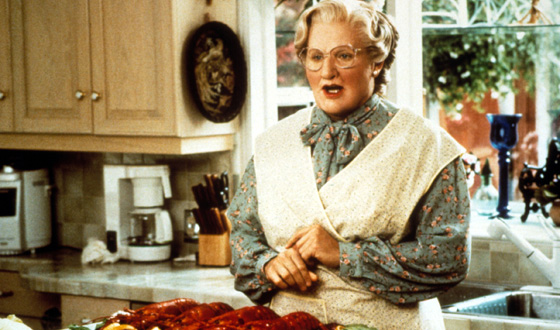 Some of the most successful gender-bending performances are meant to bring on the laughs: Viewers recognize that the flamboyant woman on the screen is one of their favorite actors (and the more macho, the better). In movies like Tootsie, it's the fellow characters who have the chiffon pulled over their eyes, to equally hilarious effect. But these parts are not always played for comedy — for some characters, the dress up is their only outlet for escape and expression. These ten represent a cross-section of cross-dressing roles, sometimes campy, sometimes tragic — but never (forgive us!) — a drag.

10. John Travolta, Hairspray (2007)
When
it comes to cross-dressing for comic effect, the irony factor is
crucial. How surprising is it to see that actor play the opposite gender — and how well does he pull it off? Tough guy John Travolta succeeds on
both counts in the 2007 version of Hairspray, fully embracing
the campy, bubblegum aesthetic of '60s-era Baltimore. His Edna
Turnblad sashays across the screen proving that even as a woman, Mr. Saturday Night Fever still knows how to move.

9. Robin Williams, Mrs. Doubtfire (1993)
Making the transition from out-of-work actor to childcare expert, Williams' transformation takes place on screen, and part of the fun is watching him juggle his two identities. Donning a fat suit and wig, this down-on-his-luck dad only manages to take responsibility for his family when he's his alter ego. Sometimes you have to be someone else to find out what you're actually capable of.

8. Jack Lemmon and Tony Curtis, Some Like It Hot (1959)
It's hard to say which actor is better in this comedy, so it's a tie. The duo witnesses a gangland hit and disguise themselves as women in an all-girl singing group to escape retaliation. Some Like It Hot gets points not only for being that rare creature — an Oscar-winning comedy — but also for pioneering cross-dressing roles well before the sexual revolution… and while J. Edgar Hoover was still doing it in secret.

7. Patrick Swayze, Thelma & Louise meets The Adventures of Priscilla, Queen of the Desert
classic, three drag queens on a road trip win the hearts and minds of some small-town residents, who discover
that the trio are men only after a confrontation with the county
sheriff. Dirty Dancing
star Patrick Swayze not only makes a hot redhead, he helped make gay
culture (albeit an exaggeratedly fabulous version) Hollywood-ready.

6. John Cameron Mitchell, Hedwig and the Angry Inch (2001)
Rock-opera Hedwig introduced a new level of ambiguity to the gender-bending
paradigm. Hedwig wants to be a woman, endures a botched sex change, and
then bounces from betrayal to betrayal at the hands of uncaring lovers.
Hiding behind a collection of wigs and false eyelashes he becomes a
rock star, but at the end of the day, even though everyone knows his
anatomical specifics (in great detail) he's still unsure about what, or who,
he is.

5. Julie Andrews, Victor Victoria (1982)
Julie
Andrews plays a struggling cabaret singer in 1930s Paris who realizes
she can transform her career by harnessing the power of sensationalism.
She sells her act, by claiming to be a man in drag — she's a woman
playing a man, playing a woman. Not only did Andrews subvert
her squeaky clean Sound of Music persona with Victor Victoria,
the movie delves into the question of what it means to be entertained
by — and attracted to — someone, and how our assumptions change that
dynamic.

4. Tyler Perry, Diary of a Mad Black Woman (2005)
Tyler
Perry's Madea — a no-nonesense, pistol packing, Bible-thumping
grandmother — deserves credit as a cultural institution in her own right.
Like Travolta as Edna Turnblad, the 6′ 5″ Perry is ridiculously
masculine, but he plays Madea straight — onscreen she's not a man
dressed as a woman, she's a woman through and through. The
Madea franchise helped Hollywood wake up to fact that African-American
moviegoers wield plenty of box office power, and communicates a set of
cultural standards between the laughs.

3. Jaye Davidson, The Crying Game (1992)
Much of the plot of The Crying Game actually
focuses on Northern Ireland and the IRA, but most people remember the
movie for the big reveal at the end. Davidson played his
character Dil so fluidly, the audience didn't realize until
the end that she was actually a he. The top secret twist got people
into theaters, and the underlying message — that people are more
mysterious than you could ever guess — won the movie an Oscar for best
screenplay, and a supporting actor nomination for Davidson.

2. Dustin Hoffman, Tootsie (1982)
What
is it about out-of-work actors that forces them to resort to drag? In
this, Hoffman plays an unemployed actor who lands a role on a soap
opera by pretending to be a woman. The movie accomplishes the work of
the best comedies, blending outlandish plot twists with a keen
examination of human nature and the gender divide — largely by letting
Hoffman walk a mile in ladies' shoes.

1. Tim Curry, The Rocky Horror Picture Show (1975)
As
Dr. Frank N. Furter, Tim Curry isn't fooling anyone, and that's what
makes it the ultimate performance — everyone is in on the joke. Rocky Horror
takes a clean-cut musical comedy, adds the sexual
revolution, a shake of post-Watergate paranoid fantasy and a healthy
dose of absurdity to yield a campy, genre- and gender-bending
classic. Curry is unmistakably a man in women's underwear; his
performance is all about ignoring normal boundaries and expectations.
Who's your favorite cross-dresser? Click here to vote or make a suggestion in the comments section below.
Read More