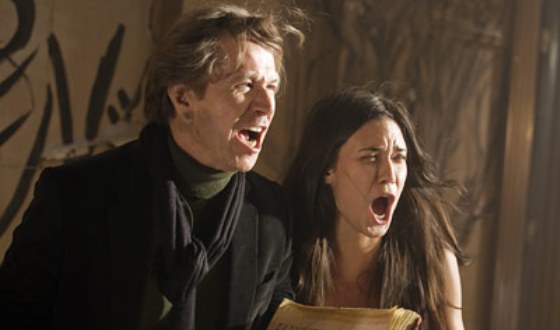 The Unborn" width="560″/>

January is traditionally known as a dead zone for movies, and not in a cool, Christopher-Walken-can-see-the-future kind of way. Studios, concentrating on Oscar campaigns, tend to put unloved, underpromoted, long-delayed films out in the first few weeks of the New Year. (T.S. Eliot said "April is the cruelest month," but he didn't work in showbiz.) Even so, it's not a total wasteland out there this year. Take, for example, David S. Goyer's Unborn, which stars Cloverfield's Odette Yustman as a Chicago woman haunted by a specter from…beyond.
The Unborn is fairly good trash, a creepy throwback to '70s horror flicks like The Exorcist and The Changeling . It centers on an interfaith God squad made up of a rabbi (Gary Oldman) and Christian priest (Idris Elba) who come together to try to save Yustman from a dybbuk, an evil spirit in Jewish folklore.
Of course, the movie is hardly a theological exercise; it's really an excuse for writer-director Goyer, following up on the teen fright-fest The Invisible, to throw a few good scares and jolts at the audience. The dybbuk's rage manifests itself in visions of creepy children, insect swarms, and all kinds of mammals (dogs and people) with their heads turned backwards and their bodies upside-down. Goyer's script is full of atmosphere: the aerial shots of Chicago in winter are stately and disturbing.
The cast is far better than you'd expect. James Remar is Yustman's doting-but-distant father; an uncredited Carla Gugino plays her deceased mother. Oldman is following in the slouched, slumming footsteps of actors like Richard Burton ( The Medusa Touch , Exorcist II ) and John Cassavetes ( The Fury , Rosemary's Baby ), who brought weight and gravity to thin horror material. During a long Oscar season, horror fans will find The Unborn the opposite of a palate cleanser, a shot of wicked, ugly stuff that pays no heed to the gourmet tastes of capital-D dramas like Frost/Nixon and The Curious Case of Benjamin Button.
Read More