The Uninvited Review – The Best-Looking American K-horror Knock-off Yet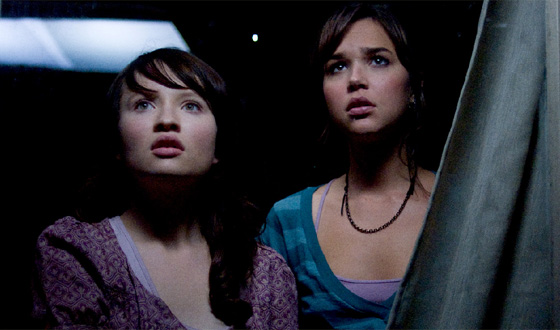 When Kim made A Tale of Two Sisters he was best known as the director of the black comedies like The Quiet Family and The Foul King , a huge hit about a mild-mannered banker who becomes a masked wrestler at night. Visually ravishing, Tale was a brightly colored scare flick with careful camera compositions, surreal angles and eye-searing production design. The wallpaper crawled with vines and flowers, fabrics are carefully chosen to carry through visual themes and every prop is burnished to an unearthly glow. If the story of Tale felt larded with J-horror devices that were tired even then, Kim somehow deployed them in a self-commenting way and ditched the goopy movie-horror for a finale full of believable emotional trauma. In Tale, the genre's tropes turned out to be the coping mechanisms of a traumatized young girl desperate to avoid confronting the truth. Not a bad idea.
Admittedly, the Guard Brothers are no Kim Ji-Won. Cursed with a shrieking sound design, their ghosties trudge through the movie with all the joy of panhandlers while the acting of the living is cranked to a point of Mommie Dearest hysteria. That said, the movie is short so the plot clicks along nicely, and while their movie doesn't come close to the high style of its source, the Guards do avoid flashy camera effects, turning in what might be the best looking American K-horror knock-off to date. Interestingly, they seem far more sure of themselves when dealing with psychological realism than flat-out scares and their finale too delivers some well-earned emotional shocks. Invite yourself to check them out.
Grady Hendrix is one of the founders and programmers of the New York Asian Film Festival. He writes about Asian film for Variety at Kaiju Shakedown and should have found something better to do with his life by now.
Read More