The Unborn Review – Would That It Weren't Born at All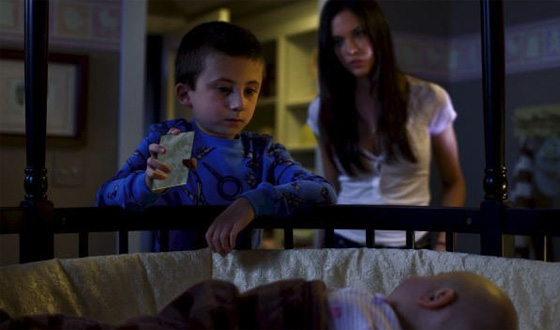 The Unborn Review – Would That It Weren't Born at All" width="560″/>

The Unborn joins Defiance and Valkyrie as the third Nazi-flavored movie in multiplexes this week, but it stands out for being the only one to mix Auschwitz flashbacks with the sight of Odette Yustman's derrière. Yustman spends most of the film either having things jump out at her or walking around in her underpants — and one has to admire her brave commitment to commemorating the conditions in concentration camps by refusing to eat, so that her pelvis sticks out like a pair of handlebars.
The movie starts with Yustman having bad dreams. She then gets clocked in the head by a mean little boy, a baby dies, and she discovers that she's killed her twin brother in utero. Before you can say Schindler's List , she's chilling out with Holocaust survivors (who helpfully sport concentration-camp tattoos, outrageous Eastern European accents, and hubcap-sized Stars of David) and being haunted by a Jewish ghost who likes to hang out in clubs and whose arrival is heralded by wriggling bugs.
She soon discovers evil Nazi doctors have unleashed a Hebrew demon, known as a dybbuk. Nonsensically, the Nazis are blamed for the death of her twin brother, her mother's suicide, and the fact that her father is a lawyer.
David S. Goyer, the movie's writer and director, is responsible for Blade , Ghost Rider, Dollman vs. Demonic Toys, and Batman Begins , and no one's ever accused him of being particularly subtle. The Unborn sees him drive his brand of pop-culture horror to bold nonsensical heights. Nothing here feels authentic, from the sets to the dialogue to the characters' motivations, and the Jewish mythology feels like a cheap coat of paint slapped on a stolen car so that it can be resold fast, before the buyer realizes he's being ripped off.
By the time Gary Oldman appears (looking uncomfortable in a kippah) and Stringer Bell from The Wire has been recruited for a nondenominational exorcism, the movie has exhausted its staying power. The Unborn does have one thing going for it: its vile ideas about race and sex will be unpacked with relish by grad students for years to come.
There's not much on offer here, beyond Yustman's emaciated booty, and even that isn't to everyone's taste. As the patron sitting behind me remarked, "Damn! Get that girl a sandwich." If by that he meant that her posterior was lacking in vitality, then I'd say not only does Yustman need a sandwich, but the movie does, too.
Grady Hendrix is one of the founders and programmers of the New York Asian Film Festival. He writes about Asian film for Variety at Kaiju Shakedown and should have found something better to do with his life by now.
Read More