The Question Isn't Should Winslet, Fiennes and Streep Win Golden Globes. It's How Many.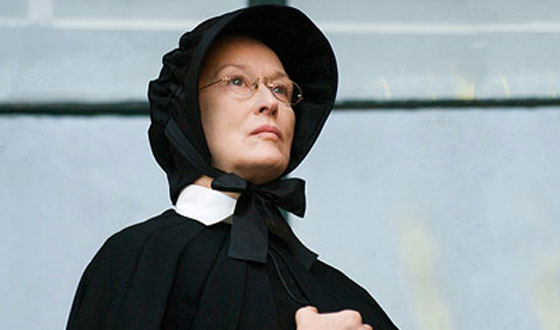 Three actors were nominated for two Golden Globes apiece this year which isn't unheard of since Jamie Foxx racked up three nods in 2005. But this year, the nominations are particularly noteworthy because they acknowledge three of the greatest actors working today. Of course, one of them is Streep who last won a Globe in 2003 for Adaptation but even she's had an unusually strong year. As have her fellow two-time nominees.
Kate Winslet
Anyone who doubts Winslet's ability to bend a role to her will need look no further than the one-two punch of The Reader and Revolutionary Road. In the former, she plays an aging German woman accused of war crimes; in the latter, a frustrated '50s suburban housewife in Connecticut. One would think that such parts would call on different resources yet Winslet brings a similar ghostly intensity to both performances. This isn't range exactly; it's fierce intelligence well applied. Much of The Reader's emotional drama plays out on Hanna Schmitz's face; Winslet keeps her mysterious and hypnotic. In Revolutionary Road, that same intensity tells us everything about April Wheeler, a failed actor whose marriage to Leonardo DiCaprio's Frank is in mid-unravel. She may struggle to remain stoic but again, look at that face: In her eyes, she's falling apart.
All Too Human, Even When He's Not: Ralph Fiennes
Ralph Fiennes appeared in The Reader
alongside Winslet; surprisingly, he wasn't nominated for that.
Instead, he got nods for the philandering Duke
of Devonshire in The Duchess and a tobacco heiress' gay butler in the TV movie Bernard and Doris.
So why didn't the Hollywood Foreign Press nominated him for his scene-stealing turn as the hilarious mob boss of In Bruges. Honestly, Ralph Fiennes deserved four
Golden Globe nominations this year, not two. Though he does fine
playing heroes, Fiennes shines when he embodies
heavies–comic or otherwise; there's something about his portrayals that brings humanity to the most heartless monsters. (Think back to Red Dragon and Schindler's List.)
The Shape Shifter: Meryl Streep
We always knew Meryl Streep could act. And as if we needed any
proof of her range, this year she played two characters as different as you can imagine: a singing, dancing
mother who doesn't know which of her three former lovers fathered her
soon-to-be-wed daughter in Mamma Mia! and a stern, domineering nun in the grim chamber piece Doubt. In the latter, watching Streep's
character fight the slow, subtle creep of uncertainty is to be reminded that she's a national treasure.
Read More