The Grotesque Genius of Mel Brooks' The Fly and Pizza the Hutt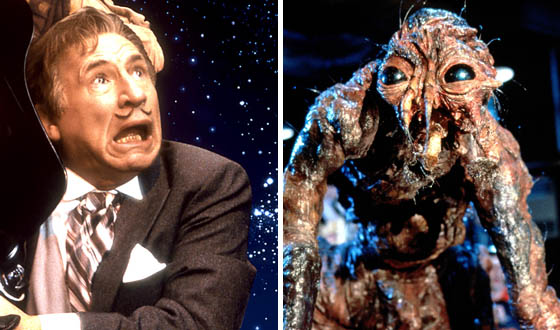 The Fly and Pizza the Hutt" width="560″/>

Let's say it's 1986, and you're a fan of Mel Brooks and his many hilarious broad comedies. You hear about his new movie, a remake of the 1958 scifi The Fly . You go in expecting a spoof along the lines of Young Frankenstein , with a bug-eyed Gene Wilder ogling Teri Garr's ample thorax. Instead, it's a brilliantly creepy modern classic. How could such a spectacle come from the man who gave us Blazing Saddles? As it turns out, Brooks had discovered an outlet for his passion for classic horror and scifi a few years prior when he founded the production company Brooksfilms. The comedy guru used the banner to release flicks that fell outside of his comfort zone and also
demonstrated his deep appreciation for all things
spooky and fantastical.
Brooksfilms began in 1980 when Brooks signed on to produce a movie based on the life of Joseph Merrick, aka The Elephant Man . While searching for directors, Brooks took in a screening of David Lynch's surrealist debut Eraserhead , famously exclaiming, "This guy's crazy! I love it!" He found his director, but Brooks feared that audiences wouldn't take Merrick's tragic story seriously if they saw his own name on the movie poster. So the comedy auteur dropped his executive producer credit and created the production company, which would go on to produced both dramas ( Frances , My Favorite Year ) and comedies ( Robin Hood: Men in Tights ) in the years to follow.
When Brooks and his Elephant Man producing partner Stuart Cornfeld tackled The Fly a few years later, they again reached out to an up-and-coming cinematic maverick. Brooks wanted David Cronenberg to lend his distinctive vision to Seth Brundle's terrifying metamorphosis, but the director was busy developing Total Recall for Dino De Laurentiis. Brooks hired British director Robert Bierman, who unfortunately had to drop out do to a family tragedy. Cronenberg eventually left Total Recall, and Brooks got his Fly helmer. Again Mel kept his name off the credits for fear audiences would expect for a torrent of hilarious "buzz" puns.
The year following The Fly saw Brooks again tackling scifi, with 1987's Spaceballs — the perfect marriage of his love for the genre and his comedic sensibilities. Was the disgusting Pizza the Hutt, with his oozing cheese drippings, inspired at least visually by Jeff Goldblum's decaying monster and John Hurt's deformed Elephant Man? It's not difficult to see where Brooks' love for the grotesque originates. In recent years (aside from the lackluster Fly II) Brooksfilms has mostly been used for comedic ventures. But rumor has it Brooks is developing a straight up horror flick with his company, marking a return to serious fare. Could more scifi be in Mel's future? Only the Schwartz will tell.
For a complete schedule of The Fly on AMC, click here.
Read More