Sundance Film Festival – Brosnan's Role in Family Drama Hits Close to Home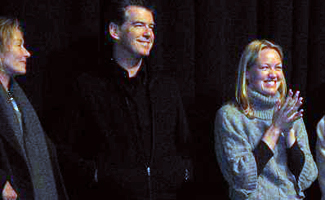 Many actors struggle to find a personal connection to the parts they play, but Pierce Brosnan's experience with his role in Shana Feste's well-received The Greatest was an altogether more difficult experience. The actor admits to initially having found the script, a dark drama about a family that loses its oldest son in a ghastly car accident, a bit too close for comfort.
In 2000, Brosnan himself was woken up in the middle of the night
with similarly terrifying news about his son Sean. "I got a call at
4:30 in the morning," the actor recalled to a sold-out early morning
audience in Park City. "He'd gone off a cliff. We went dashing out into
the night. He had to be helicoptered out of a canyon, close to death."
Luckily, Sean survived his injuries. "He's 25 now and very healthy,"
the actor noted. "But we almost lost him."
As a result of those memories, Brosnan initially didn't want to work
on Feste's film. "When I got this script… I read it, I thought it was
brilliant, and I threw it under the bed. I didn't want to go there." He
credits his producing partner Beaumarie St. Claire for persevering and
insisting that he take another look. Brosnan did — and then agreed to
sign on as executive producer as well as take the part of a grieving
father who finds himself at odds with his wife (Susan Sarandon) after
their tragedy. Given the enthusiastic reception by audiences at the
festival, it appears he made a wise decision.
Read More