Sundance Film Festival – Humpday, Brooklyn's Finest and Push Wow Audiences, Erase Worries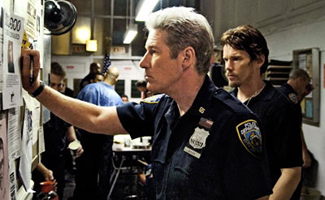 It's starting to look like the initial worries about this year's Sundance lineup being lackluster are about to fade away, with Saturday seeing several very well-received premieres. The first, Lynn Shelton's comedy about two straight best friends who decide to have sex with each other for a low budget gay porn movie, Humpday, reportedly had festivalgoers in stitches, and prompted much discussion of the film's sexual politics. After the screening, Shelton noted a father of a friend had changed his stance on California's Proposition 8 after seeing the movie and realizing that homosexuality is not a lifestyle choice.
The second big debut of the day was Antoine Fuqua's cop drama Brooklyn's Finest. With its bigger budget and its star-studded cast — the movie features Don Cheadle, Richard Gere, and Ethan Hawke as Brooklyn cops in three interlocking stories — Finest was perhaps an unlikely choice for a Sundance premiere. But a rapturous audience reception soon put that concern to rest. Post-screening, Fuqua said that the movie was shot in some pretty rough locations, including the Van Dyke housing complex in Brownsville, New York, the neighborhood where the film's young screenwriter Michael C. Martin had grown up. Before the screening, the audience also got to witness co-star Wesley Snipes reuniting with his Jungle Fever director, Spike Lee, in town to promote his documentary Passing Strange.
The final big ticket item of the night was the premiere of Lee Daniels's Push: Based on the Novel by Sapphire, starring Mo'Nique, Mariah Carey, and Gabourey Sidibe in the lead role of a Harlem teen with a dark secret. Again, an overwhelmingly positive audience response, complete with an extended standing ovation, seemed to suggest that the festival had already found its third hit, in only its first full day.
Read More