Sundance Film Festival – A Big Week for Bro-mance Humpday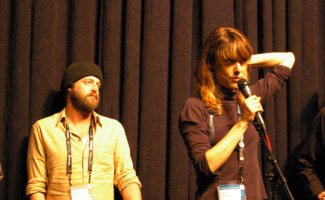 With yesterday's sold-out screening at the Racquet Club, the movie Humpday
wasn't so much fighting to make it through the pack at the Sundance
Film Festival as it was doing a victory lap. The off-kilter comedy is
about two lifelong friends (Jay Leonard and Mark Duplass) who, partly
for a film festival competition and partially out of inarticulate
affection and friendship, decide to have sex… even though they're both straight. Wags have been calling Humpday "Zack and Zack Make a Porno," but where Kevin Smith's Seth Rogen-Elizabeth Banks comedy tried (and failed) to be funny by being fake and dumb, Humpday finds hilarious laughs through trying to be smart and real.
Humpday sold to Magnolia Pictures on Monday for a "mid-six-figure deal," and today's screening saw director Lynn Shelton and star Joshua Leonard ( The Blair Witch Project ) happy about the film's success and the sold-out crowd. Shelton stressed in the post-screening Q&A that Humpday began with her desire to work with Mark Duplass (The Puffy Chair, Baghead)
and that the script sprang from the actors. "Instead of starting with
this tight-as-a-drum script, I wanted to work the other way," she said. "As you
know who the characters are, you can say 'Well, these people would say
this, or act in this particular way…' in a scene."
On-set the camerawork was carefully crafted to catch the spontaneity of the actors. Explained cinematographer Benjamin Kasulke, "We shot with two cameras at any given time," so as to not lose any of Duplass and Leonard's acting choices and reactions. "It's almost like shooting a documentary." Despite the spontaneous conditions, Leonard pointed out that not everything came easily: When he and Duplass kissed
for the first time, "it was really terrible."
Beyond Humpday's comedy — digressions like a discussion of "The Pretty Woman rule" ("no kissing on the mouth") and Duplass's perfect deadpan — the movie also offers a sincere take on masculinity and friendship, sexuality and love. It may also be the breakout film for Duplass, who earned indie cred with The Puffy Chair and Baghead; watching him in Humpday, you can envision him as a sensitive, smart, funny Judd Apatow-style lead in the right big-studio comedy.
Read More