Sundance Film Festival – Soderbergh Surprises Fest With Premiere of The Girlfriend Experience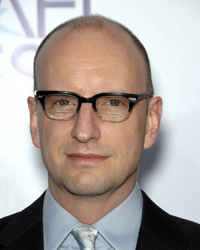 Steven Soderbergh hosted a surprise screening last night of his newest film, The Girlfriend Experience, in front of a massive, sold-out crowd at the Eccles Center. Starring adult film star Sasha Grey and utilizing a cast of non-professionals, Soderbergh's latest, about a high-priced call girl, is an ultra-low-budget indie that returns the director to the non-linear style of filmmaking he perfected in previous films such as The Limey and Bubble.
"This is the first time we've shown this film to anyone," the director said during his post-screening Q&A, noting that it's always important to watch his movies with an audience in order to sense which parts are working and which aren't.
"The structure of this film is tricky," he continued. "There are
people who do not like stories told like this." Soderbergh said that he
felt that this sort of approach, in which the emotional fireworks are
delayed until the very end, worked best for the story because the
protagonist is a woman who buries her emotions very deep. "I tried to
find a balance between interest and intrigue, and playing fair," he
explained.
As for what inspired him to cast Grey as the lead, the director noted
that he needed an actress who had a "comfort level" with the intimate
nature of many of the scenes, despite the fact that the film does not
contain any overt sex scenes. The rest of the cast, he added, had never
been in front of a camera before. Furthermore, almost all of the
dialogue was improvised by the performers, with Soderbergh simply
providing an outline of the story in advance — what he termed
"shooting without a safety net." Judging by the audience's enthusiastic
response to what the director admitted was a "work in progress," the
artistic gamble appears to have paid off.
Read More