Scott Sigler – Saw V DVD Caps Mega-Profitable Franchise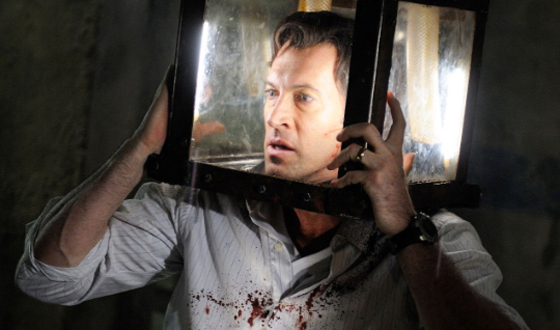 Quite honestly, you have to watch Saw I twice — once in
normal mode, once with the director's commentary turned on. Listening
to how writer-actor Leigh Whannel and writer-director James Wan put
this low-budget indie together is mesmerizing, and a fantastic
testament to creativity in the filmmaking process. As Robert Rodriguez
once said, most movies "turn on the money hose" to get out of a problem
— Whannel and Wan didn't have a money hose, so they had to scramble to
put together the best flick they could.
Saw I's
surprise success set the theme for the franchise, and that is: Traps,
traps and more traps. Let's give you a quick rundown of the highlights:
Saw I, Best Trap: Razorwire Maze
Ugh,
what a way to go. Imagine having to crawl through a cage full of razor
wire, find a hidden exit, and if you don't make it out, be condemed to
die alone in the dark. Want to watch the scene? Check it out on my
vidcast HorrorHouse.
Saw II, Best Trap: Venus Flytrap
Oy,
this one is all kinds of rough. How far would you go to survive? As
Jigsaw would say, "live or die, make your choice." Aww yeah,
HorrorHouse has the whole scene in it's graphic glory.
Saw III, Best Trap: The Rack
This one is just flat-out awful. Seriously. What's wrong with these people who are making these movies? Don't believe me? Click here to watch it.
Saw IV, Best Trap: The Hair Trap
Being
bald, I find an amazing amount of jealous, perverse pleasure in
watching this trap. For all of you with hair, particularly of the long
and silky variety, take a look at this trap and imagine the fun you could have.
Saw V, Best Trap: Guillotine Necktie
This
is badass. If you've seen the move, you may also know of it as "the
fatal five." And no, we can't show you this one, you'll have to
rent/buy the DVD. Is it worth the price? Totally.
In Decline?
Is the Saw franchise dropping? That's a relative term if you use box office revenue as your measuring stick. Saw III (2006) was the high point, pulling in $33.5 the opening weekend to become the number one movie in America. Saw IV
(2007) also opened at number one with a first-weekend pull of $31.7
million. However, it was not well received by audiences (as evidenced
by the 54% "rotten" rating at RottenTomatoes.com). That poor word-of-mouth impacted Saw V's opening on Halloween, when it grossed $30 million and failed to overtake High School Musical 3.
True, the series concept is getting a little long in the tooth, and at times its almost a parody of itself, but Saw V
puts it back on the map with traps so downright nasty they are
disturbing. I admit to watching some of them through my fingers, as I
mumbled "there's no way they're going to actually do this" over and
over again. And yeah, they did do it.
The Future?
With five movies in the bag and more leftover money than Barak Obama's election fund, you can bank on a Saw VI, VII and at least an VIII.
Can they keep it original? Well, no, they stopped being that about
three movies ago, but when you order a McDonald's burger you know damn
well what you're going to taste — and if you like that taste, you're
more than happy to throw down some change.
New York Times bestselling author Scott Sigler writes tales of hard-science horror, then gives them away as free audiobooks at www.scottsigler.com. His new novel, Contagious,
hit bookstores on December 30 and is currently available. If you don't agree with what Scott says in this blog, please
email him scott@scottsigler.com. Please include all relevant personal
information, such as your address and what times you are not home, so
Scott can come visit and show you his world famous "Chicken Scissors."
Read More