Opening Night – Brendan Fraser Says Inkheart Doesn't Condescend to Kids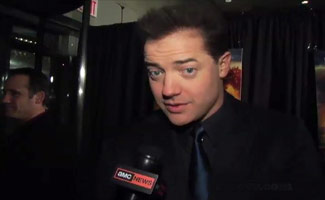 AMC News correspondent Jacob Soboroff interviews the stars of Inkheart on the red carpet. Unwilling to wag his finger, Brendan Fraser refuses to tell kids to eat their veggies, while kid star Eliza Bennett focuses on the reality within the story's fantasy.

Want more? Click here for additional AMC News videos.
During the New York premiere of Inkheart, Brendan Fraser was a lone Yank, floating in a sea of Brits (Helen Mirren topped the list). This is not the first time that the actor has starred opposite English heavyweights (ie. The Quiet American with Michael Caine and Gods and Monsters with Ian McKellan). Could it be that the man most famous for fronting the Mummy franchise (originally with Rachel Weisz, another Brit!) is really an anglophile at heart? Maybe. But judging by our video interview, his latest endeavor was fueled by a deep admiration of the best-selling kiddie novel that the film was based on.
Read More