Opening Night – Defiance Stars Try Method Acting With Vodka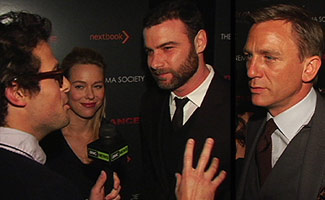 AMC News correspondent Jacob Soboroff uncovers the importance of vodka for keeping warm on set, and how Defiance star Daniel Craig managed to keep perspective on his consumption. Both Craig and co-star Liev Schreiber were intrigued by this relatively unknown Holocaust tale and what it says about the resilience of the human spirit.


Want more? Click here for additional AMC News videos.
Spirits were high at the New York premiere of the film Defiance. Not only were the film's stars, Daniel Craig and Liev Schreiber, inspired by this true, untold story of Jews surviving the holocaust in the woods during WWII, but they also tell us in our exclusive video of how they braved the Lithuanian cold while shooting. It seems that the breakfast of these champions consisted of vodka. This fact isn't so surprisingly coming from Mr. Craig — the man who's best known these days for playing James Bond and no stranger to martinis, shaken, not stirred.
Read More