Now or Then – Notorious or 8 Mile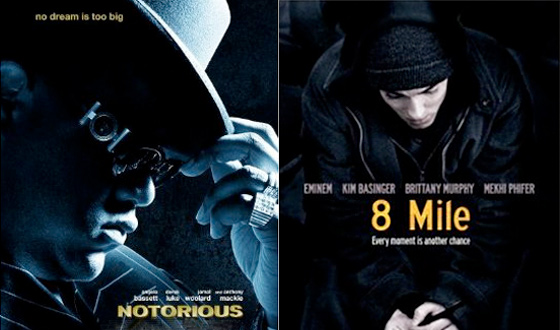 <img src="http://dev.blogs.amctv.com/wp-content/uploads/2009/01/then_and_now.jpg" alt="" title="Now or Then – Notorious or 8 Mile" width="560″/>


Now: Notorious (2009)
Then: 8 Mile (2002)
Notorious is an epic, fact-based look at the brief but momentous career of the Notorious B.I.G., a.k.a. Biggie Smalls, a.k.a. Christopher Wallace (Jamal Woolard), a fiercely talented rapper and hip-hop impresario from Brooklyn whose life was cut short after a feud with a fellow rapper. The movie 8 Mile is the semi-autobiographical tale of a young white Detroit rapper named Rabbit, a.k.a. Jimmy Smith Jr. (Marshall Mathers, a.k.a. Eminem). So which one wins this hip-hop battle?
Throw Down!
Notorious: While dealing drugs, Biggie makes a name for himself facing off in impromptu hip-hop competitions, which are taken very seriously in his side of town.
8 Mile: Rabbit is an epically talented rapper, but his dreams are more modest: to compete in the hip-hop face-offs at the city's underground clubs — thus moving "from rags to slightly better rags," as Roger Ebert so memorably put it. To do so, however, he must overcome crippling stage fright.
Winner: 8 Mile. It presents us with a familiar and all-too-human protagonist, shorn of mythology.
Mama's Boys
Notorious: Biggie is raised by his single mom, Voletta (Angela Bassett), who kicks him out of the house when she discovers he's dealing drugs. After he has a child, she accepts him back and is by his side for the rest of his sadly brief life.
8 Mile: With her bingo obsession, temper tantrums, and dirtbag boyfriends, Rabbit's trailer-trash mother (Kim Basinger) is the last word in neglectful movie moms.
Winner: Notorious.
Feisty Love Interests
Notorious: Biggie romances a number of women, most notably Lil' Kim (Naturi Naughton), the foulmouthed, tough-as-a-bullet beauty whom he turns into a star. He cheats on her and eventually marries someone else, but her devotion to him is admirable.
8 Mile: Rabbit falls for wannabe model Alex (Brittany Murphy), who can curse like a sailor and makes no bones about wanting to get out of this dead-end town. She promptly proceeds to cheat on him.
Winner: Notorious. The movie feels like it's been struck by lightning every time Lil' Kim shows up.
Rivalry
Notorious: Biggie is initially best friends with rapper Tupac Shakur (Anthony Mackie), but they're torn apart after an assault on Tupac gets blamed on him and his producer, Sean "Puffy" Combs (Derek Luke). The rivalry eventually consumes Biggie and Tupac.
8 Mile: Rabbit's main competition at the rap contests is Papa Doc (Anthony Mackie, again!) and his crew, the Leaders of the Free World, who often dismiss the white Rabbit as "Elvis."
Winner: 8 Mile. The Tupac-Biggie feud never made any sense, and Notorious doesn't do a good job of explaining it.
The Verdict
Notorious: It utilizes the epic structure of films like Malcolm X and even Lawrence of Arabia to show us how Biggie became a modern-day urban myth — but the lead character still feels somewhat distant.
8 Mile: It utilizes the formula of sports films like Rocky and The Karate Kid to show us how Eminem lifted himself up out of his surroundings — utilizing a mostly fictional story and characters.
Winner: 8 Mile. It's a more entertaining movie, perhaps because it makes no attempt at accuracy.
Read More